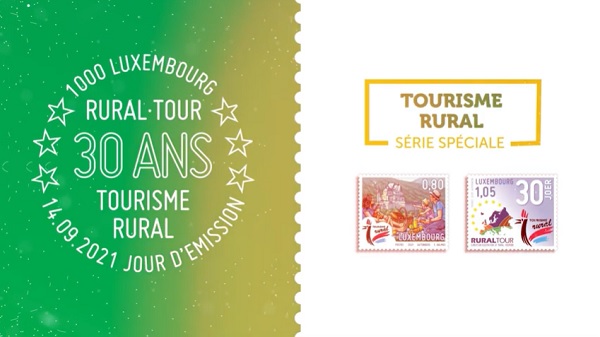 On Wednesday 20 October 2021, during the Stamp Evening 2021 which took place at the Cultural Centre in Capellen, Claude Strasser, Managing Director of POST Luxembourg, unveiled the winner of the "Schéinsten Timber 2020" competition.
A souvenir frame of the winning stamp of the "Rural Tourism" series was given to the Luxembourg designer Eugène Kalmus and to the president of the association for the promotion of rural tourism (APTR), Justin Limpach. Following a draw among the participants in the public vote, the 1st prize - an Apple iPhone 13 smartphone - was awarded to Raymond Glod.
The "Rural Tourism" series, designed by Luxembourg graphic designer Eugène Kalmus, was issued over a period of three years by POST Philately under the responsibility of Emile Espen, at the rate of two per year. This special edition, ending this year, promotes Luxembourg's rural tourism offer and has been carried out in collaboration with the APTR (Association for the Promotion of Rural Tourism in the Grand Duchy of Luxembourg).
It has become a very popular stamp series, both nationally and internationally. In Italy, this same stamp has earned POST Luxembourg the honour in the "Tourism" category of the very prestigious "Asiago International Philatelic Art Prize", rewarding the most beautiful stamps in the world.
Currently, the "Rural Tourism" series is among the most popular in the POST Philately online store (www.postphilately.lu) and is also available at the philatelic offices at 13 rue Robert Stümper, Cloche d'Or, as well as in all post offices.
On the occasion of the 80th anniversary of Stamp Day, which is to be celebrated on Saturday 23 October 2021 in the same place, a special stamp was presented with the motif of Villa Bourg, a building classified as a national monument located in Capellen and which houses the administration of the HMC League.
Souvenir frames with this stamp were presented by the Managing Director of POST Luxembourg, Claude Strasser, to Ralph Letsch, president of the Cercle Philatélique de Mamer, the organising club of the 2021 edition of the Day of the Stamp, as well as to Norbert Ewen, president of the HMC League.