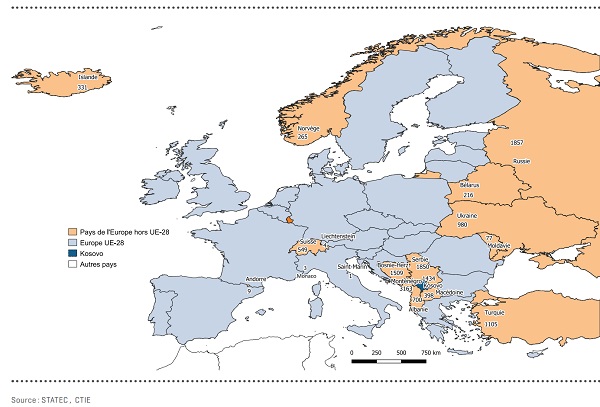 Credit: STATEC
In its latest report, STATEC revealed that 2.3% of the Luxembourg population in 2020 came from a non-EU-28 European country.
As of 1 January 2020, 14,351 of Luxembourg's 626,108 inhabitants, had the nationality of a European country outside the European Union (including the United Kingdom at this stage). This figure represents 2.3% of the overall population and 4.8% of the foreign population in the Grand Duchy.
The proportion of non-EU European nationals among the Luxembourg population was relatively low until the 1990s (around 1%). Following the diversification of migrations, this share reached 2.8% in 2001 and 2.7% in 2011.
The report showed that women (7,691; 53.6%) from this group outnumbered men (6,660; 46.4%) while the split is around 50/50 for the whole of the Luxembourg population and men are slightly over-represented among foreigners (52%) in the Grand Duchy.
These non-EU European nationals can be divided into 21 different nationalities, including the former nationalities of the USSR, Yugoslavia and the Community of States of Serbia and Montenegro. Although these three states no longer exist, there was still one person with the USSR nationality, sixteen individuals of Serbia and Montenegro nationality and 26 individuals of Yugoslavia nationality.
With 3,163 people, the Republic of Montenegro was by far the largest community, representing 22.0% of non-EU Europeans in Luxembourg. This was followed by Russia (1,857 people; 12.9%), the Republic of Serbia (1,850 people; 12.9%), Bosnia and Herzegovina (1,509; 10.5%), Kosovo (1,291; 9.0%) and Turkey (1,105; 7.7%). Most non-EU European nationals therefore came from Eastern and South-Eastern Europe.
On the other hand, the countries of the European Free Trade Association (EFTA) were significantly less represented in Luxembourg: there were 549 Swiss nationals (3.8%), 331 Icelandic nationals (2.3%) and 265 Norwegian nationals (1.8%). Nationals of the very small states or principalities were the least numerous: one national of San Marino, three nationals of Monaco, four nationals of Liechtenstein and nine nationals of Andorra.
On average, non-EU European nationals were younger than Luxembourgers. As of 1 January 2020, the average age of the Luxembourg population was 39.5 years: 40.3 for women and 38.8 for men. Luxembourgers were on average slightly older than non-EU European residents. The average age of Luxembourgish women was 42.6 years, compared to 36.1 for non-EU European women (and 37.6 for all foreign women in Luxembourg). The average age of Luxembourgish men was 40.1 years, compared to 34.9 for non-EU European men (and 37.4 for all foreign men).
The highest concentration of non-EU European nationals residing in Luxembourg could be found in Wiltz (5.5%); the lowest concentration was in Nommern (0.3%). After Wiltz, they were mainly concentrated, in relative shares, in several municipalities of the former mining basin in the south and southwest of Luxembourg: Rumelange (4.8%), Schifflange (4.3%), Esch-sur-Alzette (4.0%), Kayl (3.7%) and Differdange (3.1%).