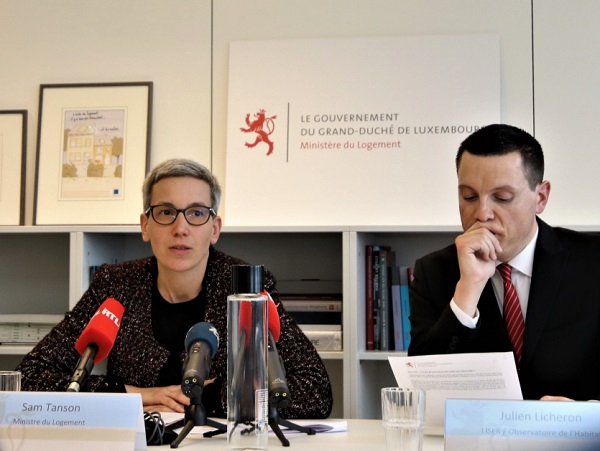 L-R: Sam Tanson, Minister of Housing; Julien Licheron, team leader of Observatoire de l'Habitat; Credit: Minstère du Logement
Despite the availability of sufficient land for construction, obstacles remain for affordable housing in the Grand Duchy of Luxembourg.
Luxembourg Minister of Housing Sam Tanson yesterday presented four land-themed studies carried out by Habitat Observatory teams for the Ministry of Housing in 2018. Faced with the steady rise of housing prices in Luxembourg, Minister Tanson found it necessary to outline some of the difficulties of using land in this way and its consequences on housing prices.
With regard to land for potential construction, the Observatory noted that there is 2,846 hectares of land available for housing in the communes' general development plans (PAG). This could enable the construction of 50,000 to 80,000 dwellings. Therefore, the issue is not land availability but rather how to use this land for low-cost housing. To achieve this, Minister Tanson highlighted the importance of involving private landowners.
As for the evolution of prices of building plots, price studies have confirmed an average annual increase of about 6%. Indeed, whilst it may be possible to find land priced between €25,000 and €30,000 in the more remote areas of the City of Luxembourg, the capital remains the dominant pole of the residential real estate market in Luxembourg with prices exceeding €200,000.
Consequently, if the government wishes to promote low-cost housing, it must develop innovative approaches, such as the emphyteutic lease, to neutralise the cost of land. However, the major challenge, according to Minister Tanson, will be that public authorities will constitute a land reserve necessary for the creation of low-cost housing. To illustrate, the study found that 15,907 individuals possessed 72.5% of the total area of ​​land potential in 2016, whilst 46 private companies owned 14.9% and the State and communes possessed the remaining 11%.
This concentration of land potential, which poses a challenge in terms of socio-economic equity in general, nevertheless raises the question of the ways in which these lands can be used in order to lead to housing construction. In addition to the fiscal measures that remain to be implemented, Minister Tanson stated that ways must be found to implement building projects involving private landowners, while placing particular emphasis on the development of housing at moderate prices, including rental properties.
Nevertheless, construction activity was sustained between 2010 and 2016: an average of 3,200 homes were placed on the market per year, making it possible to house more than 30,000 additional people over the entire period. For Minister Tanson, this shows that the programmes and measures already put in place are working.