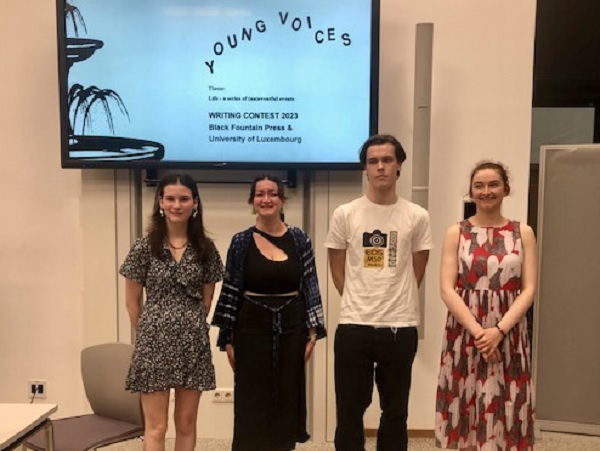 Young Voices Writing Contest 2023 winners;
On Thursday 8 June 2023, the winners of the Young Voices Writing Contest 2023, organised by Black Fountain Press and the University of Luxembourg, were announced.
In the age category 15-19, Tobias Rault (ESL) won the prize for best poetry with his submission 'At the Buergbrennen'. The prize for best prose went to Charlotte Benck (LRSL) for her text 'Alice, Ronny, Brian and the Frogs'. In the age category 20-25, Jessica Lentz (University of Amsterdam) was awarded the prize for best poetry with her poem 'Eruption', and Catherine Entringer (University of Stuttgart) won the prize for prose with her text 'Carwash'.
Faced with a large variety of submissions, the jury, consisting of three representatives of the University, Mylène Branco, Jeanne Glesener, Anne-Marie Millim, and three representatives of Black Fountain Press, Tullio Forgiarini, Jean-Marc Lantz and Anne-Marie Reuter, decided to appreciate poetry and prose separately and to attribute two prizes per age category. 48 young writers were inspired by this year's theme 'Life – a series of (un)eventful events' and submitted texts. All contributions remained anonymous until the jury had come to a decision.
The winners were celebrated at the University of Luxembourg: it was a cheerful get-together of highly talented and inspiring young writers from whom a great deal is to be expected in the years to come. As Jeanne Glesener pointed out in her speech, "it was a privilege to be given an insight into the young writers' minds; it is inspiring and moving to read about their preoccupations, their worries and their passions." In his presentation of the winning texts, Jean-Marc Lantz praised the quality of the writing, the originality of the pieces as well as the knowledge of literature they display.
The twelve shortlisted authors who did not win a prize but whose texts will also feature in a publication to be launched at the Walfer Bicherdeeg are the following: Zeynep Celik (ESL), Arnit Dey (AL), Emma Machado Ferreira (LGE), Marie Necsa (LAML), Ipek Sen (ESL), Sujin Vongphanith (AL), Aurelia Wells (AL), Maia Wercollier (LGE), Angeliki Jennie Susan Xydakis (ALR), Delali Amegah (Catalyst - Institute for Creative Arts and Technology in Berlin), Flame Darinov (University of Luxembourg) and Natalia Pikna (Vrije University Brussels).