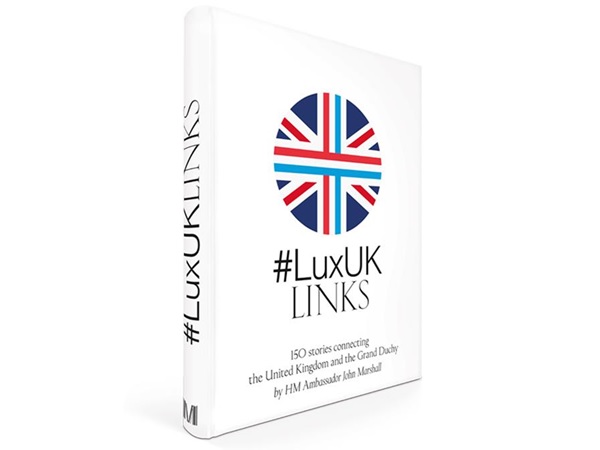 On Thursday 22 October 2020, the British Ambassador to Luxembourg, John Marshall, launched the 2nd #LuxUKLinks (hardback) book, the first of which was published in 2018, at his residence in Luxembourg city.
The idea for the original book formed as a result of Ambassador Marshall's passion for running which took him to all corners of the Grand Duchy since arriving here in March 2016: when he discovered new information linking the UK to Luxembourg, we tweeted the information using the #LuxUKLinks hashtag.
He started to build up dozens of such links, covering history, sports, art and culture, and much more, until he decided to create a mobile exhibition of numerous roll-up banners which was launched in May 2017 and is still currently used (containing 60 tweets).
A year later, in 2018, he collaborated with Jean-Claude Muller of Les Amis de l'Histoire / Geschichtsfrenn Letzebuerg which resulted in the publication of the A4-format book containing 75 such links, each with their own story.
Now, in October 2020, Ambassador Marshall has now collaborated with Maison Moderne to publish the second book with 150 stories "connecting the United Kingdom and the Grand Duchy".
Ambassador Marshall has described the book as "a celebration of the links between Luxembourg and the United Kingdom".
Speaking with Chronicle.lu, Ambassador Marshall explained "it's a completely different book. It's a #LuxUKLinks book done in a completely different way (to the first one). The first book in many ways was a book of the exhibition ... This one is approached from a completely different point of view, by chapters".
When asked about the leap from 75 to 150 stories in the second book, he stated "As we were producing the first book, I was still tweeting. It got to a point that I thought it might be a good idea to do a completely different book."
And when asked will this be the end of the initiative, he replied "I suspect so. I intend to keep it at 150. This book keeps all the different elements and wrapped it altogether in one place".
He concluded by stating "It's been a really enjoyable extra dimension to my post here in Luxembourg and has been a thread through my time here. It puts all the different elements of the UK's relationship with Luxembourg in one place as a unique product". Ambassador Marshall is scheduled to complete his posting in Luxembourg next April.
Some of the snippets included in the book:
- Did you know that young Luxembourgers, forcibly recruited into the German Army, passed information about Germany's V1 and V2 rocket programme to British intelligence, resulting in the bombing by the RAF of Peenemünde on the Baltic Coast? #42 Luxembourgers provided information on V1/V2 programmes
- Or that Luxembourg's national Quidditch team featured in British author J.K. Rowling's Harry Potter and the Goblet of Fire? They slaughtered Scotland. #33 Luxembourg shines in Quidditch in Harry Potter.
- Or that Radio Luxembourg was the first radio station ever to play a record by English rock band, The Beatles? They played Love Me Do, the Beatles's first single, on 5 October 1962. #9 Radio Luxembourg, first radio station to play the Beatles.
"What I show through #LuxUKLinks is moments in time when the stories of our two countries have come together, or where people from one country have left a mark in the other," said Ambassador Marshall. "#LuxUKLinks also highlights the contemporary links. It covers the spectrum from important moments in European and global history to light-hearted and frivolous links we have in common," he added.
The second #LuxUKLinks book is available for purchase in bookshops at €39.