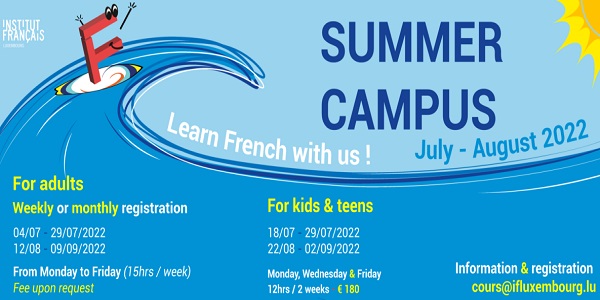 Credit: Institut français du Luxembourg
The Institut français du Luxembourg has announced that it is organising a "Summer Campus" for people wishing to learn or improve their French language skills.
From July to September 2022, the Institut français du Luxembourg is offering courses to those who wish to learn French in their free time. These group lessons from level A1 to C1 are made up of three to seven learners of all nationalities. Beyond language courses, the "Summer Campus" aims to create real cultural exchanges.
The programme is available in two versions: one for adults aged seventeen and over and another for children and adolescents aged six to sixteen. The former is split across fifteen hours from Monday to Friday and can be reserved for a week or a month, depending on the availability and objectives of the learners. Classes take place from 09:00 to 12:00 at the Lycée Athénée de Luxembourg. Lessons for children and adolescents are divided into three groups: six to nine year olds, ten to thirteen year olds and fourteen to sixteen year olds. These consist of twelve hours spread over two weeks with classes on Mondays, Wednesdays and Fridays at the Institut français du Luxembourg.
Upcoming dates
Adults: 18 to 22 July; 25 to 29 July; 12 to 19 August; 22 to 26 August; 29 August to 2 September; 5 to 9 September. Cost: €390 for one week; €760 for two weeks; €1,050 for three weeks; €1,130 for four weeks (preferential rate for the booking of consecutive weeks).
Children & adolescents: 18 to 29 July; 22 August to 2 Sepember. Cost: €180 for two weeks.
Further information, including reservation details, is available online at www.institut-francais-luxembourg.lu or via email: cours@ifluxembourg.lu