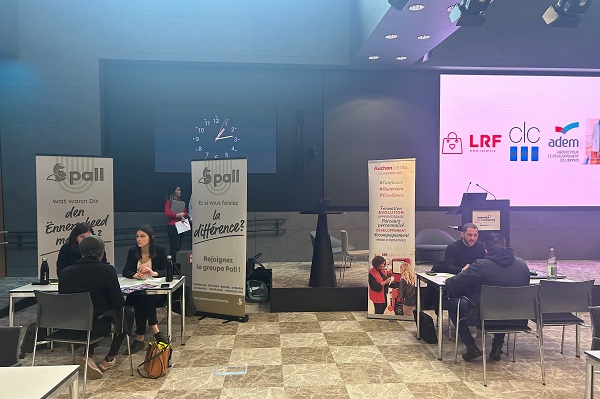 Credit: ADEM
On Tuesday 21 March 2023, Luxembourg employment agency ADEM organised a "Jobday" dedicated to the retail sector, following discussions with the Luxembourg Trade Confederation (CLC).
ADEM developed this recruitment event in close cooperation with the Luxembourg Retail Federation (LRF) affiliated to the CLC. The event was aimed at candidates registered with ADEM and pre-selected by their professional advisors.
A total of fifteen companies looking for new recruits participated in this event: RH Lab, Pall Center, Auchan, Meubles Kandel, La Maroquinerie du passage, Fischer/Panord, Match et Smatch, Action, Cactus, Härebuttek an Dammebuttek Josée Rach, Feel good group, Goeres Horlogerie, Smets Color Center, Proximus and Dacolux.
Robert Goeres, President of LRF, pointed out that "LRF member companies are expressing a growing need for qualified sales consultants. The Jobday represents an exceptional initiative allowing to meet a large number of motivated job seekers in a single day. This action is a real service to our members, who can thus optimise their recruitment process thanks to such initiatives."
Jobseekers thus had the opportunity to introduce themselves to the various recruiters looking for a variety of profiles in the retail sector.
"For the first edition of a Jobday dedicated exclusively to the retail sector, 450 jobseekers registered with ADEM had the opportunity to have a job interview and therefore meet and discuss directly with the recruiters present - an additional chance given to our candidates alongside the other services offered by ADEM", stressed Isabelle Schlesser, Director of ADEM.
For the CLC and the LRF, this "Jobday", heralding a series of sectoral events to come, represented an important initiative and strengthened their long-standing collaboration with ADEM in terms of recruitment and development of the employment market in Luxembourg.