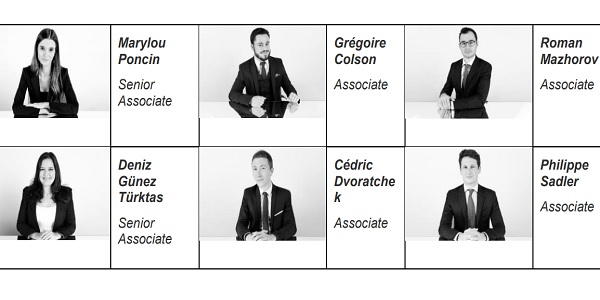 Bonn Steichen & Partners (BSP), an independent full-service law firm based in Luxembourg, has announced the promotion of six lawyers to Associate and Senior Associate positions.
The promotions have been made across several departments of the Luxembourg firm, including banking and finance, corporate, investment management and private equity and reflect the internal growth strategy of the firm in recognising and rewarding the best talented and committed lawyers.
Deniz Günez Türktas and Marylou Poncin have been promoted to the position of Senior Associate while Grégoire Colson, Cédric Dvoratchek, Roman Mazhorov and Philippe Sadler to Associate.
Marylou Poncin has been appointed Senior Associate in the Investment Management team. Ms Poncin's practice consists primarily in advising investment funds and management companies with respect to their corporate forms and to draft or review all the documentations and contracts relating thereto. She is involved in regulated fund vehicles (including UCITS, SIFs, and SICARs) as well as Reserved Alternative Investment Funds (RAIFs) and other unregulated vehicles at all stages of their life.
In BSP's Banking and Finance team, Deniz Günez Türktas has been promoted to Senior Associate. She primarily focusses on advising banks, financial institutions, companies and investment funds in their multijurisdictional financings. She also has expertise in corporate law and multi-jurisdictional mergers and acquisitions transactions.
Roman Mazhorov and Philippe Sadler have been promoted to Associate.
Roman Mazhorov joined BSP in 2018. He specialises in banking and finance with a specific focus on securitisation. He advises a number of regulated securitisation companies on a continuing basis with respect to individual transaction as well as with respect to ongoing corporate law and compliance matters.
Philippe Sadler specialises in debt and equity capital market deals, corporate matters and mergers and acquisitions with a particular focus on public capital markets and the sectors of real estate and green tech. He also advises issuers on regulatory matters.
Grégoire Colson has been promoted to Associate and is part of BSP's Private Equity and Corporate and M&A department. He is particularly involved in the structuring, financing and refinancing of joint ventures, international buyout transactions and cross-border investments. He also specialises in the structuring of management investment programmes, advising on the private equity firm's side.
Cédric Dvoratchek has been promoted to Associate. He is part of the firm's Corporate and M&A department and is particularly involved in mergers and acquisitions and corporate transactions.
Commentint on the new promotions, Alain Steichen, Managing Partner, said: "Rewarding the talent of our lawyers by offering them promotions is a genuine pleasure for all the partners of BSP. These promotions are well-deserved as they are the result of the high quality of their work and remarkable dedication to the firm's clients".