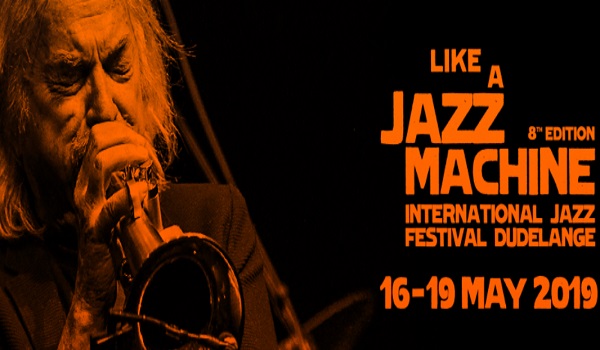 The organisers of the 8th Like a Jazz Machine have confirmed the full line-up for this international music festival, taking place from 16 to 19 May 2019 at Opderschmelz in Dudelange.
Created in 2012, the Like a Jazz Machine (LAJM) festival has consistently offered a common platform for artists, audiences, professionals and cultural workers, as well as associations and companies interested in partnerships. Following the success of the previous seven editions, LAJM 2019 will offer a wide range of contemporary jazz music, with an emphasis on original creations and rising talents, focusing as well on cross-border incursions in other musical styles.
Fifteen groups and ensembles, gathering about 70 musicians, will perform at the Grand Auditoire of the Cultural Centre of Dudelange for four consecutive days. The full line-up is as follows.
Day 1 (16 May): Claire Parsons Quintet. Claire Parsons is a British jazz singer and teacher from Luxembourg; Rembrandt Frerichs Trio + Hermine Deurloo. Hermine Deurloo and Rembrandt Frerichs have been performing together on the chromatic harmonica and piano since 2013​; Arthur Possing Quartet. Arthur Possing is a young Luxembourgish pianist. The Arthur Possing Quartet was originally formed in 2013. Its members met in high school and soon started playing together regularly; famed trumpeter Enrico Rava's Special Edition - 80th Birthday Tour
Day 2 (17 May): internationally renowned jazz pianist Laurent de Wilde and his New Monk Trio; Luxembourg-born Artist in Residence Marly Marques Quintet & Friends (CD-Release - "Sea Change"); Kyle Eastwood with his stylistically eclectic album "In Transit" (2017); Get the Blessing with their new album "Bristopia"
Day 3 (18 May): Michel Edelin Quintet (CD-Release - "Echoes of Henry Cow"). Michel Edelin is a self-taught musician, known for his participation in the only recording of the progressive rock group "Triode", who created his own groups with many renowned musicians since the 1980s; Luxembourg jazz composer and arranger David Laborier with his album "NE:X:T"; Nantes-based instrumentalists and winners of the AJC's Jazz Migration for 2018/19 No Tongues with their recording "Les Voies du Monde"; multi-award-winning saxophonist Soweto Kinch feat. Theo Croker + Greg Hutchinson
Day 4 (19 May): Artist in Residence project Tele-Port! featuring leading jazz voices from Luxembourg and Russian saxophonist Zhenya Strigalev; Luxembourg-born Artist in Residence Pascal Schumacher; Manu Katché with his 10th album "The Scope".
Pre-sale tickets cost €30 for an LAJM Day Pass or €85 for an LAJM Festival Pass and are available from Opderschmelz (open Monday to Sunday from 08:00 - 17:00) via tel.: 516-121811 or at the CNA reception desk (open Monday to Sunday from 09:00 - 21:00; tel.: 522-4241). Pre-sale tickets are also available online at www.jazzmachine.lu, www.opderschmelz.lu or at www.luxembourg-ticket.lu, www.ticket-regional.lu, www.fnacspectacles.com and www.eticket.lu.
Box office tickets cost €35 for a Day Pass or €85 for a Festival Pass.
For the full programme, see www.likeajazzmachine.lu.