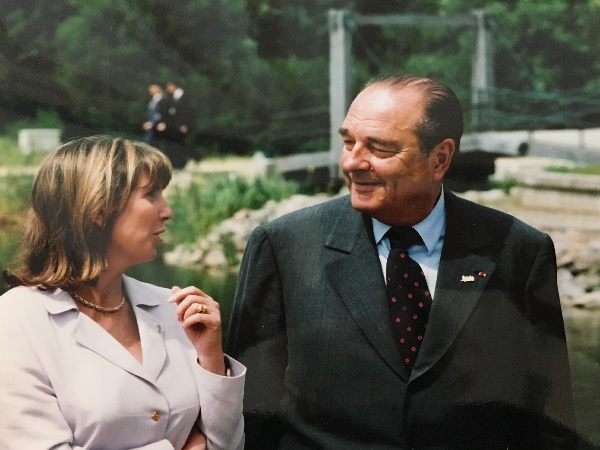 The late Jacques Chirac pictured with long-time friend Lydie Polfer, Mayor of Luxembourg City; Credit: Photothèque / Ville de Luxembourg
The former French President Jacques Chirac passed away on Thursday, aged 86.
Jacques Chirac, who served two terms as as President (1995-2007) and twice as Prime Minister (1974-1976 and 1986-1988), passed away at his home in Paris on 26 September 2019.
The former French President had close relationships with several Luxembourgish politicians, including outgoing European Commission President and Luxembourg's former Prime Minister, Jean-Claude Juncker, and Mayor of Luxembourg City, Lydie Polfer. Both have since expressed their condolences upon hearing the news of Chirac's death.
For his part, Jean-Claude Juncker stated, in a press release issued by the European Commission: "It is with infinite sadness that I have learn of the death of President Jacques Chirac. My thoughts go above all to his family and all the French people who had a great affection for this man, who knew so naturally and spontaneously how to be close to them". The European Commission President added: "Jacques Chirac was above all a great personal friend with whom I have lived so many unforgettable moments". Later in the press release, he described the late Chirac as "a man of strong convictions, those of the humanist values of fraternity, respect for human beings and tolerance".
Lydie Polfer has also expressed her condolences in a public yet personal letter addressed to Jacques Chirac's family and close friends. She stated: "It is with a lot of emotion and sadness that I learnt of the death of the former President of the French Republic Jacques Chirac. [...] In fact, I had the good fortune, and above all the great honour, of having Jacques Chirac as a sincere friend for 37 years, a friendship that accompanied us throughout our different mandates and which united profoundly our two cities and our two nations". The Mayor of Luxembourg City continued: "With this great statesman, we have lost a brave man who breathed human warmth, friendship and life, a man who adored his country and the French people".
In addition, Their Royal Highnesses the Grand Duke and Grand Duchess of Luxembourg have publicly expressed their condolences to Jacques Chirac's wife, Bernadette Chirac. In a telegram, they stated: "It is with great emotion that we have just learned of the death of your dear husband, Mr. Jacques Chirac. We commend him as the statesman who embodied so well the values of his country while maintaining a bond of affection and proximity with his compatriots". They added: "His person raised respect across borders, and Luxembourg lost a faithful and attentive friend in Mr. Chirac".