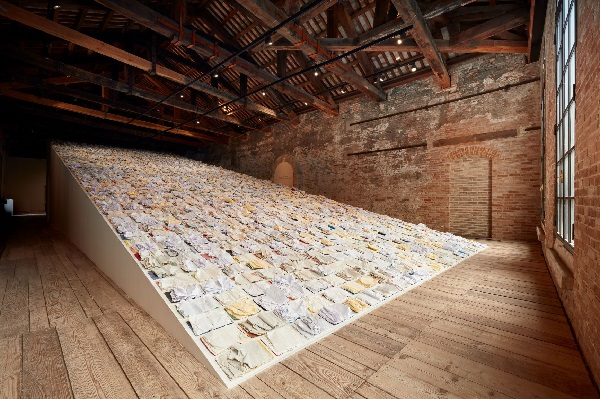 Marco Godhino's "Written by Water"; Credit: Luke A Walker
Since its official inauguration on 9 May 2019, the pavilion of the Grand Duchy of Luxembourg at the 58th Venice Biennale has welcomed nearly 43,000 visitors.
Almost 43,000 people have already visited Luso-Luxembourg artist Marco Godinho's exhibition "Written by Water" halfway through this year's Biennale, which will end on Sunday 24 November 2019.
With its new location in the Sale d'armi within the Arsenale, a major exhibition site that forms, along with Giardini, the nerve centre of the Biennale, the Luxembourg pavillion has been taking full advantage of the flow of visitors at the Biennale. In addition, "Written by Water" has been enjoying the admiration of the general public and the recognition of international professionals since its opening.
For his exhibition, Marco Godinho, who is representing Luxembourg at the 58th Venice Biennale, looks at the relations between humans and the sea. Two books have been published for the occasion: "See Another Sea", a visual and poetic proposal that reviews the various journeys and collaborations made by Marco Godinho during his preparation of "Written by Water", and "Le monde nomade de Mr Godinho" ("the nomadic world of Mr Godinho") by illustrator Keong-A Song, which retraces the adventures of Mr Godinho (the artist's alter ego as an illustrated figure) across the world as part of his artistic endeavours. A monograph with texts by Léa Bismuth, Sally Bonn, Thierry Davila, Paul di Felice, Christophe Gallois, Hélène Guenin and Béatrice Josse will be published in autumn 2019.
"Written by Water" will be on display at the 58th Venice Biennale until Sunday 24 November 2019. Then, on Thursday 28 November 2019, Casino Luxembourg and Marco Godinho will finish the project with a tasting of "Oblivion (Water)", a mix of Luxembourgish and Portuguese eaux-de-vie with Korean jujube - macerated from the opening until the closing of the exhibition.