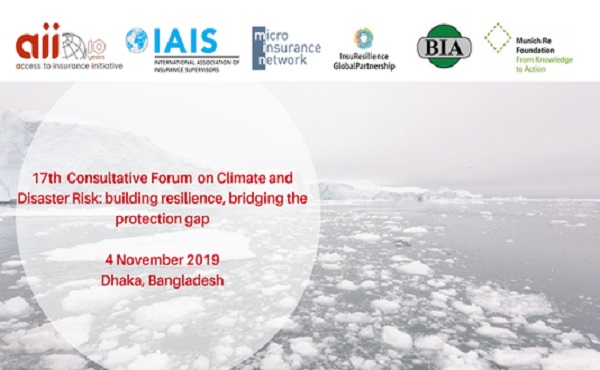 The 17th Consultative Forum on Inclusive Insurance, co-organised by the Luxembourg-based Mircoinsurance Network, will be taking place on Monday 4 November 2019 from 08:30 to 17:15 at Pan Pacific Sonargaon in Dhaka, Bangladesh.
Jointly organised by the International Association of Insurance Supervisors (IAIS), Access to Insurance Initiative (A2ii), Microinsurance Network (MiN) and InsuResilience Global Partnership, and hosted by the Bangladesh Insurance Association (BIA) and Munich Re Foundation, the Consultative Forum aims to answer one crucial question: What are the roles and responsibilities of each stakeholder to reduce the protection gap in climate risk/nat cat insurance and what are the urgent steps that they have to adopt to make this happen?
Within the Asian region, South Asia alone accounts for 34% of all global losses from natural catastrophes; four out of every five people affected by disasters in the past two decades have lived in the region. The Asian Development Bank (ADB) has reported that rapid socioeconomic development is converging with worsening threats from natural hazards to pose unprecedented risk from catastrophes.
For its part, Bangladesh is acutely exposed to tropical cyclones. In 2017, Cyclone Mora displaced half a million people in coastal areas and damaged 20,000 homes in refugee camps. Low-lying Pacific islands such as Fiji, Kiribati, Tuvalu and Vanuatu have already witnessed the first exodus of climate refugees.
Against this background, the 17th Consultative Forum will bring together insurance companies, digital providers, policymakers and regulators to discuss how to reduce the protection gap (the difference between insured and uninsured economic losses) in climate risk and natural catastrophe insurance.
Participants will hear from a wide range of experts including BIA President Sheikh Kabir Hossain and Syed Moinuddin, Managing Director of Green Delta- one of the leading private non-life insurance companies in Bangladesh. International experts speaking at the event include Astrid Zwick (InsuResilience Global Partnership), Pranav Prashad (ILO's Impact Insurance Facility), Melinda Grace "Aira" Labao (Card Pioneer), Mathieu Dubreuil (World Food Programme), Augusto Hidalgo (Willis Towers Watson), Carl Hiralal (Toronto Centre) and Andrea Camargo (A2ii). Also attending are Bangladeshi government ministers, including Mr. Mohsin from the Ministry of Disaster Management and Relief and representatives from a number of other Asian governments and supervisory authorities, such as Beenish Ashraf Tahir, Deputy Director to the Government of Pakistan.
The 17th Consultative Forum will be held alongside the 15th International Conference on Inclusive Insurance (15th IMC).
To register for the Consultative Forum, see https://a2ii.org/en/form/registration-form-for-the-17th-c.