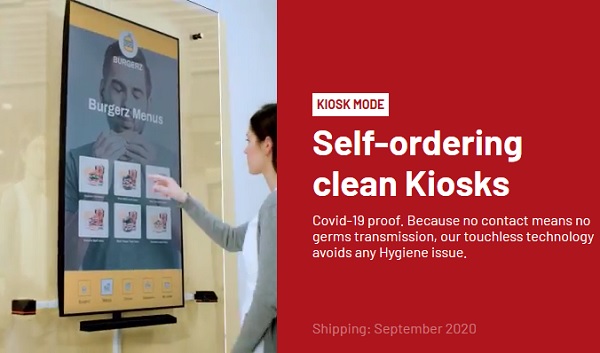 iNUI Studio has announced that, as a result of the COVID-19 pandemic, they have redirected their strategy and decided to adapt their technology in light of this public health concern: the company is aiming to replace touchscreens by touchless devices where one's finger is detected 14cm from the screen in any day-life situations: self-ordering kiosks in fast-food restaurants, airports, underground stations, train stations, hospitals, etc.
iNUI Studio, a startup based in Technoport (Foetz) that has invented and patented a unique touchless technology (AIR TOUCH™). Interacting with a screen without touching it is the principle of the AIR TOUCH™ technology. Because no contact means no germs transmission, this innovation is a game-changer for the Post-Covid world.
Developed and patended by iNUI Studio SA, the technology has already attracted many companies, and requests are now steadingly increasing. With its new generation device – AIRxTOUCH™ BAR 2 – the company has responded quickly to the health crisis by making a serious turn in its roadmap: the new priority is to launch a safe touchless kiosk solution to replace touchscreens that are reservoirs for viruses, bacteria and germs. This shift could happen anywhere: self-ordering and self-checkout kiosks, tickets buying, etc.
In addition to its kiosks mode, this touchless technology – in Shop window mode – is a solution for many domains: Horesca, Real estate, Travel agencies, Retail, airports and train stations. In every situations, retailers will be able to reinvent the way they work to adapt to the situation and taking care of their clients.
AIRxTOUCH™ BAR 2 - "Kiosk mode" will be shipped in September 2020 while the "Shop window mode" is set for Q1 2121.