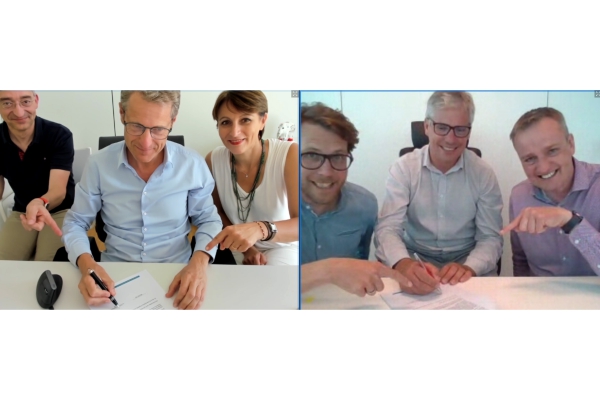 On Tuesday 27 June 2022, the Luxembourg Internet eXchange node LU-CIX and its Belgian counterpart BNIX announced signing of a cooperation agreement to interconnect in order to optimise the flow of Internet traffic between their two countries.
In concrete terms, this will mean that BNIX and LU-CIX participants, members and Internet access and / or content providers, will be able to directly and easily optimise the flow of Internet traffic for their professional and private customers on demand.
This interconnection, in addition to reducing latency times between the two countries, will also ensure greater security for the two traffic exchanges, to the benefit of professionals and private individuals who will have a better connection on both sides of the border with their content providers (such as public clouds, for example).
With the digital transition and the increase in teleworking over the last two years, optimal availability, security of data exchange and flexibility are becoming increasingly important. With the signing of this cooperation agreement, LU-CIX and BNIX will further improve the local and regional Internet by facilitating the mutual exchange of traffic ('peering') for a better user experience for all users.
By avoiding transiting through networks or exchange nodes outside these two countries, the speed and quality of Internet traffic can be considerably improved and costs mathematically optimised.
"This geographical extension creates more opportunities for participants connected to the BNIX platform," said Stefan Gulinck, Network Architect at Belnet, the administrator of BNIX. "By giving them access to a larger network of potential partners, they can make the most of their access port on the BNIX platform. Recently, new services such as the Reseller Programme and private VLAN connections were added to our service offering in the same vein. The interconnection between LU-CIX and BNIX can be seen as a combination of both services. By configuring an additional VLAN on their port, connectivity is offered to the other Internet node. The connection is provided by BNIX and/or LU-CIX at the request of the participant."
"We see this collaboration as a natural step in these times. Our organisations share a common philosophy and values based on neutrality, openness, reliability and security of the Internet," said Claude Demuth, President of LU-CIX. "BNIX and LU-CIX were created to contribute to the development of the local Internet and we want to support each other to further extend our sovereignty for the benefit of our Internet community."