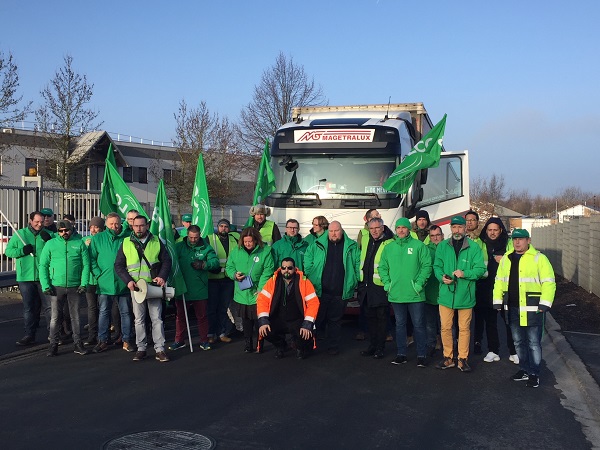 Protest outside Magetralux in Belgium; Credit: LCGB
Luxembourg trade union the LCGB, together with Belgian union CSC, today organised a protest outside the headquarters of Magetralux in Eupen, Belgium, to denounce the transport company's treatment of its drivers.
The LCGB has argued that employees of Magretralux, a company based also in Luxembourg, had been forced to file complaints with the court to claim back wages related to working time. Consequently, three employees, who refused to withdraw their complaints, were allegedly faced with threats, intimidation and blackmail, which ultimately led to dismissals, according to the union.
The LCGB has called on Magetralux to comply with legal stipulations, including in particular those of the sectoral collective agreement for road transport in Luxembourg. As the majority union in the transport sector, the LCGB has also requested that the transport group (employers' federation) strengthen and renegotiate the agreement in question in a clear and precise manner, so that the agreement is no longer open to interpretation.
In addition, the LCGB has noted that Magetralux generates better results from year to year. The union has thus deplored the fact that "the additional profits obtained are reserved for shareholders only" and ignores "the correct payment of the salaries of its 111 employees".