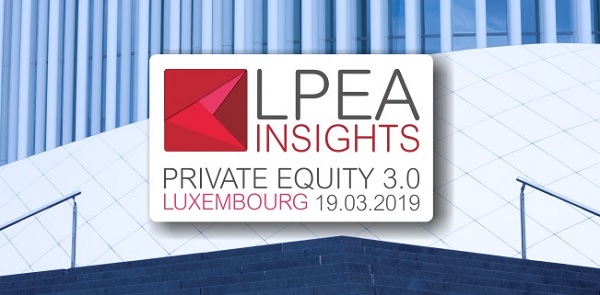 The Luxembourg Private Equity & Venture Capital Association (LPEA) has announced a 20% increase in membership in 2018 and three significant events taking place in early 2019.
Membership growth of 20% in 2018
LPEA membership grew from 163 to 195 members in 2018, an increase of 20%. The majority of new applicants falling in the category of "full member" which corresponds to investors and fund managers. This number is particularly supported by the increasing number of family offices, a type of investor which has globally increased its exposure to private equity.
Luxembourg at the International Private Equity Marketplace
The Luxembourg Private Equity and Venture Capital Association (LPEA) will be representing Luxembourg at the IPEM conference in Cannes from 22 - 24 January. This international marketplace held its first edition in 2016 and soon became one of the leading private equity conferences bringing together over 1600 participants in a marketplace that welcomes investors, fund managers and investee companies under the same roof. Rajaa Mekouar-Schneider, President of LPEA and Head of Partnerships & Syndication at Kharis Capital will participate in the panel "How Brand Driven Investors Succeed". Overall, more than 50 participants are expected from Luxembourg in this international marketplace. The LPEA will host a booth from which it will highlight the advantages for private equity firms to establish and operate from Luxembourg, present the available setup options and the skills that are unique to the country. This will also be an opportunity to showcase Luxembourg as a dynamic market with many career opportunities in private equity (PE). According to research from LPEA, there were 912 PE job vacancies in Luxembourg by December 2018.
LPEA reception in London
The Luxembourg Private Equity & Venture Capital Association (LPEA) will offer a high-level reception to leaders of UK-based private equity firms in London on 7 February. Under the title "PE in a post-Brexit world: How to keep calm and carry on in every scenario", a delegation from LPEA will discuss with UK practitioners the challenges of dealing with Brexit-related uncertainty. This networking event will be hosted by the Ambassador of the Grand Duchy of Luxembourg Mr Jean Olinger in his official residence. This is an invitation-only event.
LPEA Insights Conference
Only two months away, the LPEA Insights 2019 conference just closed its speakers' list for the half-day conference to be held on 19 March in the afternoon at the Philharmonie in Luxembourg-Kirchberg. This year's edition is dedicated to the future of private equity or as many call it: "Private Equity 3.0". From the financial engineering of leveraged buyouts (PE 1.0) to collaborating with management to improve efficiency and operational performance (PE 2.0), the future of private equity adds to traditional PE financial analysis and management disciplines, this approach combines comprehensive ESG due diligence, operational efficiency and environmental innovation to help transform businesses to create cleaner, more productive enterprises. The speakers include:
- Pierre Gramegna, Luxembourg Minister of Finance
- H.S.H. Prince Max von und zu Liechtenstein, CEO of LGT
- Norbert Becker, Chairman of Atoz, CBP Quilvest and Lombard International
- Lindsey McMurray, Managing Director, Pollen Street Capital
- Dominique Gaillard, CEO of ARDIAN France
- Larry Aschebrook, Founder and Managing Partner of G Squared
… among many others.
For details, see https://www.lpea.lu/insights2019