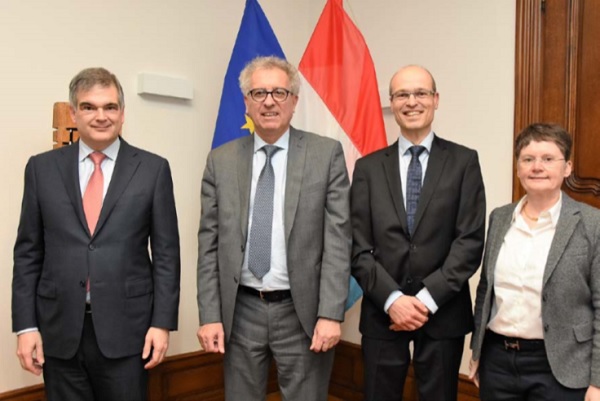 (L-R): Claude Marx, CSSF; Minister Pierre Gramegna; Claude Wampach; and Ms Isabelle Goubin, CSSF;
On 17 December 2018, Luxembourg's Minister of Finance, Pierre Gramegna, swore in Claude Wampach as a new director of the CSSF, Luxembourg's financial regulator.
Claude Wampach succeeds Claude Simon who will retire on 1 January 2019. Claude Wampach will take over the following fields and competences: the supervision of banks, the Single Supervisory Mechanism (SSM) as well as the protection of depositors and investors. He will also be a member of the Resolution Board and of the Council for the Protection of Depositors and Investors (CPDI).
Claude Wampach holds a PhD in economics from the Université catholique de Louvain. He joined the CSSF in 2001, after having spent two years at the Banque Générale de Luxembourg (BGL), and worked in the department "Supervision of banks". He is also the Luxembourg representative to the Basel Committee on Banking Supervision.