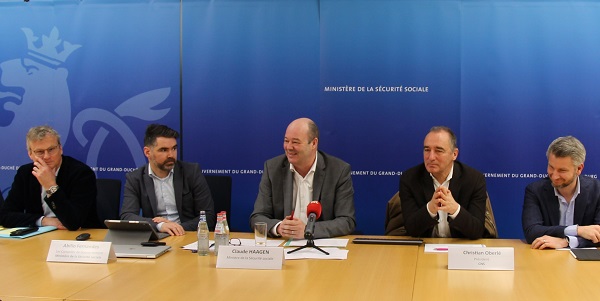 (L-R) Marc Hostert, Ministry of Social Security; Abilio Fernandes, Ministry of Social Security; Claude Haagen, Minister of Social Security; Christian Oberlé, President of the CNS; Cédric Neiens, CNS; Credit: MSS
In the context of digitalisation, the Luxembourg Ministry of Social Security recently brought together all social entities in order to present and promote the various online services intended for the insured.
During a press conference, the ministry presented the various online services of the National Health Fund (CNS), the Accident Insurance Association (AAA), the National Pension Insurance Fund (CNAP), the Joint Social Security Centre (CCSS) and the State Office for Assessment and Monitoring (AEC) of the long-term care insurance.
Over 80 services are currently available online and can be found on the website of the Ministry of Social Security, which will be updated quarterly. In compliance with this periodicity, the ministry will regularly announce the various additions of new online services. The aim is to allow the insured/citizens a fast, simplified exchange with the various administrations in the management of their rights on a daily basis.
The standard access to the various social security entities will be maintained. A campaign to promote these online services to insured persons will be introduced over the next two weeks, in Luxembourgish, English, French and Portuguese.
In addition, the Minister of Social Security, Claude Haagen, presented the "Social Security Modernisation Package" and concluded the press conference by saying: "The digitalisation of the social security entities is moving closer to the needs of the insured".