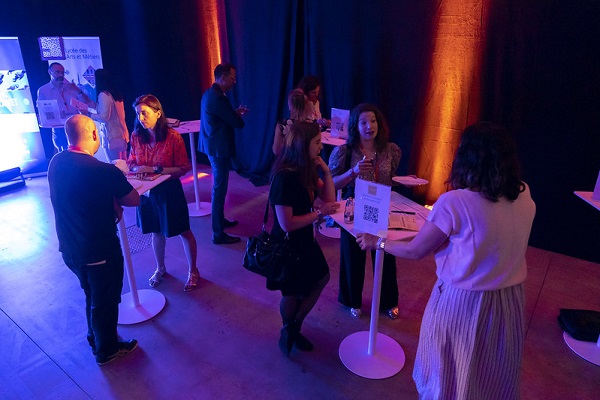 Credit: IMS Luxembourg
In collaboration with the Department of Media, Connectivity and Digital Policy of Luxembourg's Ministry of State, Digital Luxembourg and the Digital Skills and Jobs Coalition, IMS Luxembourg organised the second edition of the Digital Skills Matchmaking event on Thursday 30 June 2022 during the ICT Spring tech conference at Luxexpo The Box.
During this edition, fourteen digital project leaders had the opportunity to exchange with companies. At the end of this event, 20 partnerships were signed.
On the opening day of ICT Spring, the member companies of IMS Luxembourg and the Digital Skills and Jobs Coalition interested in digital skills were invited to meet a selection of innovative digital projects. This unique and relaxed setting facilitated several collaboration opportunities, which were concretised by partnership contracts.
Nancy Thomas, Director of IMS Luxembourg, introduced and launched this Digital Skills Matchmaking event: "This speed-meeting format is an opportunity to meet many digital players quickly and act very concretely by signing partnerships".
Max Gindt, attaché in emerging technologies at the Ministry of State's Department of Media, Connectivity and Digital Policy (Service des médias, de la connectivité et de la politique numérique - SMC), recalled the importance of this initiative: "Together with other stakeholders, the SMC with the Digital Luxembourg initiative promotes digital skills projects for a population that is tech savvy and interested in new technologies. We support the Digital Skills Matchmaking event to increase the potential, mutual support and outreach of digital skills projects".
Marina Andrieu, Coordinator of the Digital Skills and Job Coalition Luxembourg, commented: "We see a positive evolution in the initiatives, but there is still work to be done to connect people between them. We consider that in 2020 we need one million people trained in ICT jobs. We are now in 2022. The need is even greater. That's why it's so important to create bridges between the players".
Companies undergoing digital transformation and the evolution or disappearance of certain professions were thus able to benefit from the players' expertise but also find a source of qualified workforce in these new fields, put their corporate social responsibility (CSR) strategy into practice or mobilise their employees in a voluntary approach. The project leaders were looking for coaching, mentoring, advice or financial and logistical support.