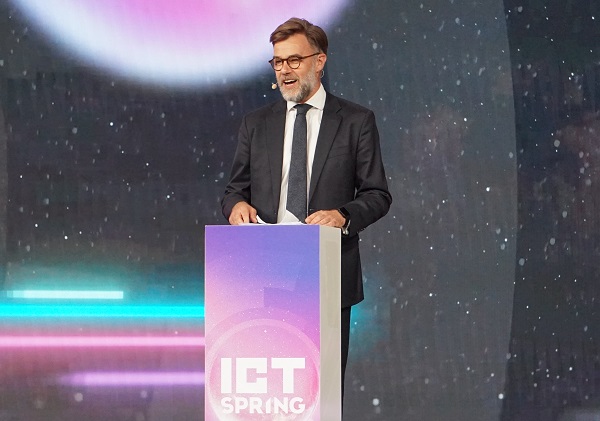 Franz Fayot, Luxembourg's Minister of the Economy; Credit: Jazmin Campbell
This year's ICT Spring, the two-day international tech conference organised by Farvest, kicked off on Thursday 30 June 2022 at Luxexpo The Box in Luxembourg-Kirchberg.
After two years of the COVID-19 pandemic, ICT Spring is back in person at Luxexpo The Box. The two-day event aims to facilitate the meeting of minds, encouraging emulation and networking with industry leaders.
This year's tech conference features over 200 speakers, including: Sean Cleary, Vice-Chair of FutureWorld Foundation; Tony Parker, NBA champion and Club President of LDLC ASVEL; Sumo, Luxembourgish artist and founder and owner of Gallery 1:1; Catherine Barba, tech entrepreneur, digital pioneer and a retail and e-commerce industry futurist; Fabrice Testa, serial tech entrepreneur, business angel investor and author; Solenne Niedercorn-Desouches, non / executive director and senior advisor in FinTech / VC; Filip Nowak, Global Head of Cyber Defense at Ferrero; Prof Isabell M Welpe, Professor of the Chair for Strategy and Organization at the Technical University of Munich and Academic Director of the Bavarian State Institute for Higher Education Research and Planning (IHF); Ed Lu, astronaut, founder of LeoLabs and co-founder of B612 Foundation; Ron Garan, astronaut, fighter pilot, test pilot and humanitarian; Sophie Lacoste, President of Porosus Endowment Fund; Isidro Laso Ballesteros, cabinet expert under European Commissioner Gabriel for Innovation, Research, Education, Culture and Youth.
One of the highlights of the first morning session on the Main Stage was an immersive keynote called "Enter the World Wide Brain", delivered by Bastien Didier, founder and chairman of Mentalista, a deep tech company specialising in brain-environment interfaces. Two volunteers from the audience were invited on stage to demonstrate how to use brainwaves to move a ball.
This was followed by the official inauguration of the 2022 edition of ICT Spring by Luxembourg's Minister Delegate for Digitalisation, Marc Hansen, in the presence of Steve Breier, Director and Head of Finance & IT of the Luxembourg Chamber of Commerce. During an interview on this occasion, Minister Hansen stressed the importance of such events which bring together different actors of the digital transition in Luxembourg and which enable the sharing of ideas and experiences in the technological field.
The second morning session opened with a speech by Carlo Thelen, Director General of the Luxembourg Chamber of Commerce, who reflected on the fact that the COVID-19 pandemic had made clear that the digital transformation was "imperative" for doing business. He noted how digitalisation had ensured business continuity during the pandemic and given companies a competitive advantage, helping them to increase productivity and improve resilience to economic ups and downs. He particularly emphasised the importance of the ICT sector, which is "constantly growing" in Luxembourg. A successful digital transition relies on investment in infrastructure but also people, he added, recalling that ICT is part of Luxembourg's school curricula from primary up to tertiary education. Mr Thelen also stressed the need to continue to support research and innovation, and noted the benefits of improving digitalisation in both the public and private sectors. Finally, he highlighted the importance of pursuing a collaborative approach, at the national, regional and European levels.
In his official speech, Luxembourg's Minister of the Economy, Franz Fayot, began by emphasising the fact that digitalisation and technology are big priorities for the Ministry of the Economy and the entire Luxembourg Government. He lamented that this year's ICT Spring is takin place against a "gloomy backdrop", as we come out of the COVID-19 pandemic (which is still not completely over) and are currently experiencing a "senseless, terrible war" in Ukraine. This geopolitical context is prompting a reinvention of globalisation. He also mentioned the climate and biodiversity crises, which are "getting more and more urgent", as well as rising energy prices and social unrest, which have led governments to take action; he recalled the "Solidaritéitspak" tripartite measures implemented by the Luxembourg Government in this context.
Minister Fayot noted that the digital community is also facing such challenges at present. He stressed the importance of the so-called "twin transition" (green and digital transition) as a solution to these problems by pushing an ecological AND a digital agenda. The challenge remains (for everyone): how to use digitalisation as a tool or instrument to change and decarbonise our societies and advance in innovative efforts. The Economy Minister also recognised that digitalisation has an environmental cost and thus the goal was to use this as a tool to reduce rather than increase consumption. Some of the ways to achieve this include making energy networks more stable and flexible to better incorporate renewables, to enhance the sharing and maintenance of buildings and equipment and to use satellite observation for early warnings. Minister Fayot also explained that the Luxembourg Government was investing in specific sectors to get this digital transition "right", namely the space, logistics and health sectors. Another important aspect, according to the Economy Minister, was remembering the importance of both low and high tech opportunities.
Minister Fayot dedicated the last part of his speech to Luxembourg's startup ecosystem. He announced the creation of a new online directory of startups (around 500 in total) in the Grand Duchy. The directory, produced by Luxinnovation, is now available online at: https://directory.startupluxembourg.com/ The Economy Minister commented: "We believe this will be an excellent additional resource to showcase the skills and offerings of the Luxembourg startup community. This may be of interest to companies looking for business partners as well as national and international investors looking for interesting prospects". To conclude, he noted that, despite the uncertain times in which we are living, he "remain[ed] fundamentally optimistic that be working together and collaborating nationally and [...] internationally, we will get there in the end".
The first day continued with various other speeches and talks, including a fireside chat with Luxembourgish artist Sumo, who has created a collection of non-fungible tokens (NFT) especially for ICT Spring.
As well as the Main Stage, talks and activities are taking place in the FinTech, Data and Workshop rooms.
ICT Spring will continue on Friday 1 July 2022. The full programme is available at: https://www.ictspring.com/programme/the-programme/