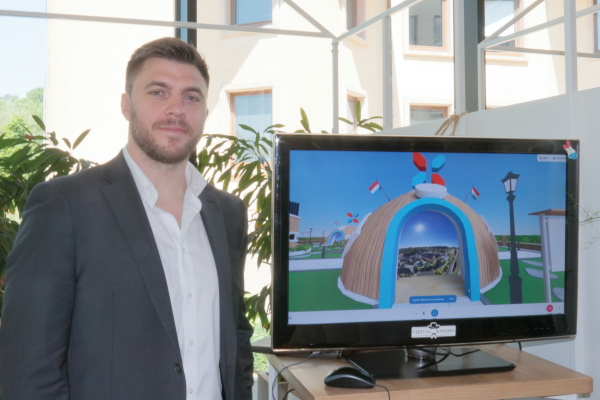 Matthieu Bracchetti, Founder and CEO, Virtual Rangers; Credit: Kangkan Halder
On Tuesday 28 June 2022, Luxembourg based Virtual Rangers, a creative studio specialised in virtual reality, and The Dots, a marketing agency exclusively dedicated to the technology, innovation and digital industry, announced the lanch of Luxembourg Metaverse.
Since Meta (Facebook) brought the metaverse to light, a new digital era of unlimited opportunities has opened up. This virtual world is set to revolutionise not only the way we consume but also the way we interact with others.
Technology consulting firm Gartner is forecasting the metaverse to become a major part of people's lives by 2026 - much like the internet now. The firm predicts that a quarter of the global population will be spending at least an hour in the metaverse each day by then.
The metaverse is expected to generate $5 trillion by 2030, according to McKinsey's Value Creation in the Metaverse - The real business of the virtual world report published in June this year. The study also reveals that more than $120 billion has already been invested in the sector since the beginning of the year, more than double the $57 billion invested over the whole of 2021.
In Luxembourg, the metaverse is already a reality: Virtual Rangers and The Dots offer users to join Luxembourg Metaverse, a crypto-wallet-free metaverse that is easy to use and access (via virtual reality headset, personal computer or phone). In a few days, users will be able to immerse themselves in Luxembourg Metaverse through avatars and discover the best that Luxembourg has to offer, be it news, business or tourism.
Luxembourg Metaverse members can opt for one of the two "Dots" formats: Small Dot or Large Dot. The Dots are customisable pavilions with spaces dedicated to members' branding (logo, images, videos, links, 3D models). Depending on their choice, they can also have a fully customisable avatar and building.