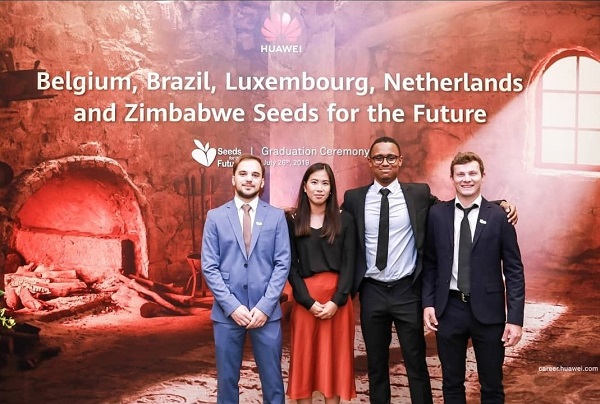 Seeds for the Future Luxembourg 2019; Credit: Huawei
Huawei has announced that it is launching the 5th edition of its "Seeds for the Future" programme in Luxembourg, in partnership with the University of Luxembourg and Fondation Jeunes Scientifiques Luxembourg, with the support of Jonk Entrepreneuren; the programme will be held online from 19 to 26 July 2021.
Offered digitally since last year, Seeds for the Future is Huawei's flagship corporate social responsibility (CSR) programme that aims to develop local talent, enhance knowledge transfer, promote a greater understanding and interest in the ICT sector and encourage participation in the digital community.
"We want to inspire young talents to consider a career in ICT by giving them the opportunity to hear from global experts during an immersive experience," explained Dorothee de Nazelle, PR Manager of Huawei Luxembourg.
Spread over eight days, the 2021 edition offers a full immersion into Chinese culture and an ICT environment through online courses (live sessions or pre-recorded videos), interactive tours and group discussions. The topics covered range from science, technology and economics to culture and sustainable development. Courses will include cybersecurity, 5G, artificial intelligence (AI) and Cloud. There will also be live and interactive tours of cultural sites such as the Great Wall of China or exhibition halls at Huawei's headquarters.
Dorothee de Nazelle added: "This year, we launched the Tech4Good initiative to encourage multicultural exchanges between students. We have set up sub-groups to promote interactivity and teamwork with debates and round tables to fuel the discussions".
At the end of the programme, graduating students will be awarded a Certificate of Completion & Personal Leadership Report. Students are also invited to join the Seeds for the Future alumni group on LinkedIn to continue the conversation within an international network of students and teachers and participate in exclusive activities.
Created in 2008 and launched in 2017 in Luxembourg, Seeds for the Future is running in 130 countries and regions around the world in partnership with some 500 universities.
"Last year, for the first virtual edition - set up due to the pandemic - digitalisation enabled us to open the programme to a larger number of students", noted Huawei Luxembourg's PR Manager.
Vasif Javadli, an alumnus of the 2020 edition of the programme, said: "I was delighted to participate in this instructive programme. In particular, the course on '5G Applications in Industry' provided me with valuable indication for my future career, on the way to being an expert in my field as a master student in Industrial Engineering. A great thank you to Huawei technologies for this golden opportunity offered to the prospective students, especially to the professors and instructors who delivered the latest information with comprehensive details about modern technologies and the importance of its role in our world".
Applications for Seeds for the Future 2021 are now open to Luxembourg students. Applicants must show a strong interest in ICT, demonstrate high motivation and have an excellent command of English. Interested students can apply until 11 July 2021 by sending their CV and cover letter to Dorothee de Nazelle via email: dorothee.de.nazelle@huawei.com.