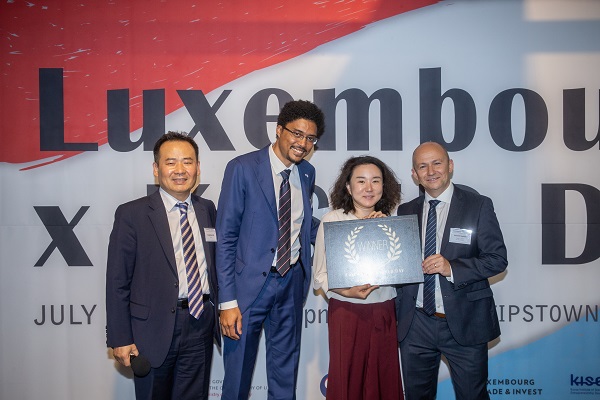 (L-R): Kwanghyon KIM, KISED; Olivier Zephir, Technoport; Isom RYOO, Everspin; Kenneth Graham, Tomorrow Street Innovation Center; Credit: MECO
On Wednesday 17 July 2019, the second day of the trade mission to South Korea led by Luxembourg's Deputy Prime Minister and Minister for Economy, Étienne Schneider, was dominated by an event in Seoul to promote and present the Luxembourg ecosystem for young innovative companies.
In his introductory speech to 100 representatives of Korean companies, the Deputy PM said "Given the increasingly favourable environment for start-ups which has grown over the years, I think we can only be optimistic about the future and the diversity of the start-up ecosystem in Luxembourg. We are firmly on the right track to become a "start-up nation", a phenomenon that contributes to boosting the national economy."
Organised by the Ministry of the Economy, Luxinnovation and the "Luxembourg Trade and Investment Office" (LTIO) in Seoul, in collaboration with the Korean Institute for Startup & Entrepreneurial Development (KISED), the start-up event in Seoul was a follow-up from the visit of 10 Korean start-ups in Luxembourg for the ICT Spring Europe in May 2019. During a pitching session, 8 Korean start-ups wishing to set up an activity in Luxembourg were able to present their projects. The winning company is Everspin, which is active in the digital field and developed a dynamic security technology that guarantees a safe environment for personal data. Everspin will benefit from 4 months of free office space at Technoport and will be able to present itself during the pitching session at the next edition of the Arch Summit ICT fair organised in Luxembourg.
Luxinnovation signs MoU with its South Korean counterpart
On the occasion of the start-up event in Seoul, a Memorandum of Understanding (MoU) was signed between KISED and its Luxembourg counterpart, Luxinnovation, the national innovation agency. This agreement provides greater collaboration between the two entities to support the development of the Korean and Luxembourg start-up ecosystem and to support start-ups wishing to develop in one of the two countries.

When signing the MoU, Mario Grotz, President of Luxinnovation said: "Support for start-ups plays a vital role in our innovative business environment. With the help of many support programmes, the establishment of new high value-added start-ups contributes to Luxembourg's economic diversification and growth. Thanks to this Memorandum of Understanding, together with our Korean partners, we want to identify and support innovative start-ups offering disruptive technologies."

In a bilateral meeting on 17 July 2019 between Étienne Schneider and Yoo Myung-hee, Minister of Commerce of the Republic of Korea, economic relations between the two countries were discussed. A dozen Luxembourg companies are active in South Korea including Jan De Nul Group, Cargolux and Paul Wurth.