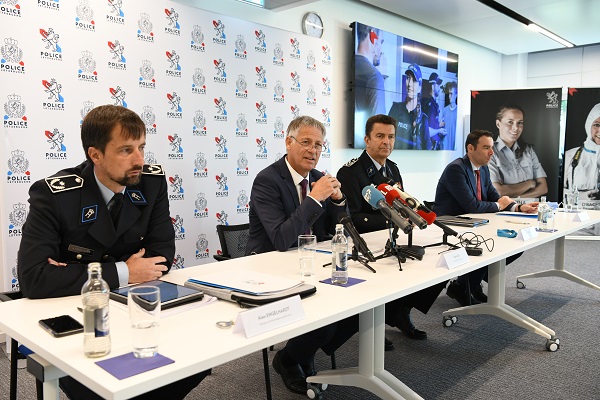 Credit: Police Grand-Ducale
On Wednesday 13 October 2021, the Grand Ducal Police and Luxembourg's Minister of Internal Security, Henri Kox, launched the next phase of the national police recruitment campaign.
Minister Henri Kox and the Director General of the Grand Ducal Police, Philippe Schrantz, launched the 2021 police recruitment campaign at a press conference on Wednesday. This comes ahead of registrations for the specialised police exam which is taking place from 20 October to 3 November 2021 for groups B1 and C1.
The jobs are open exclusively to Luxembourg nationals and candidates are tested on their French and German language skills. They are also required to take a general aptitude exam, physical fitness test and a psychological exam.
This second phase forms part of the large-scale police recruitment plan, introduced in 2019 for the years 2020 to 2022, which provides for the hiring of 607 police officers and 240 civilians spread over three years.
Minister Henri Kox confirmed that the campaign's budget for 2022 will increase by 10%, "with staff costs alone increasing by 8.4%".
Commenting on the first recruitment phase, the minister stated: "The recruits present an unprecedented variety of profiles, of which we are very proud. The same goes for the rate of women recruited, namely 25% of the total. We will continue to encourage the recruitment of diverse profiles and women in the police profession".
This recruitment drive is expected to result in 130 additional police officers finishing their training by 2023.
As in previous years, a media campaign will run from 18 October to 3 November 2021 to encourage potential recruits to register for the specialised exam. Seventeen video testimonials will present the various roles within the police force. The budget for the preparation of this media campaign and advertising amounts to a total of €160,000 including tax, divided between the Ministry of Internal Security and the Grand Ducal Police.