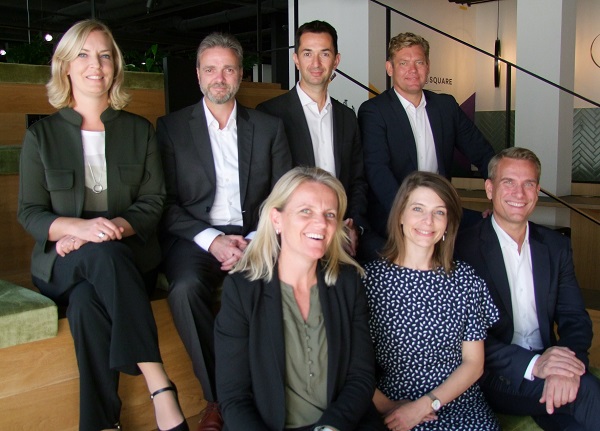 Anderson Wise team. L-R: (top row) Aude Francois; Darren Robinson; Michael Mandic; Andrew Notter; (bottom row) Saskia van Rijswijk; Valerie Potier; David Kitzinger; Credit: Jazmin Campbell
Monday saw the launch of Anderson wise, a new recruitment firm set up in Luxembourg by seven recruiters.
Named after the Anderson Clan of the district of Badenoch in the Scottish Highlands, Anderson Wise is a Recruitment and Executive Search Firm made up of seven, soon to be eight, partners, all of whom previously worked at Badenoch & Clark.
The new firm was set up with the intent to address the constant need for a high-quality talent search service for the growing business community in Luxembourg.
The team is a group of colleagues and friends, but above all a team of highly experienced recruitment professionals who together bring more than 110 years of market-specific experience and expertise to the table.
Partners David Kitzinger, Andrew Notter, Saskia van Rijswijk, Michael Mandic, Valerie Potier, Darren Robinson and Aude Francois commented on their professional yet personal approach: "We strive to understand and respect our clients and candidates as they become our long-term partners. We treat them the only way we know is right, as people. To put it simply, their success is our success".
Anderson Wise specialises in the following areas: Banking & Financial Services (Private Banking & Wealth Management, Asset Management Compliance, Risk, Manco, etc.); Accounting & Finance (Service Providers, Trust, Advisory); Legal (Law Firms and In-house); Executive Search (C-Level Executives).
The firm has its offices in the Silversquare co-working space on Rue Glesener in the Luxembourg-Gare area.
For more information, visit www.andersonwise.com.