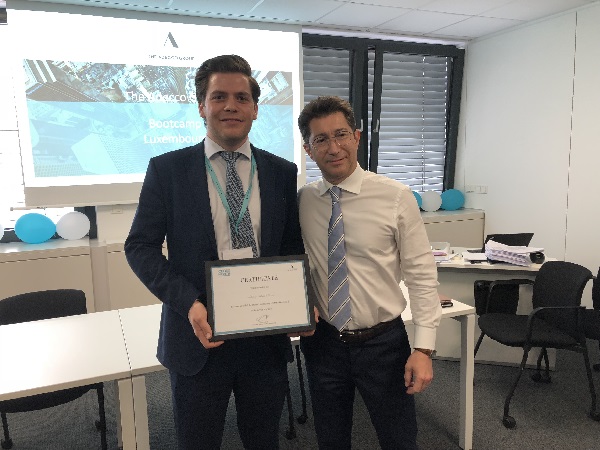 Credit: Adecco
This year, 300 candidates tried their luck to get the chance to share the daily life of Fabrice Poncé, CEO of the Adecco Luxembourg Group as part of the "CEO for One Month" competition.
Following a recruitment process lasting several weeks, ending with a bootcamp and jury assessment, the jury chose 23-year-old Philipp Dahlem as this year's winner.
To bridge the gap associated with a lack of professional experience, the Adecco Group's "One-Month CEO" programme offers talented young people a once-in-a-lifetime experience. They became familiar with the hand solutions sector and address topics ranging from human capital management to talent and leadership development, from corporate strategy to defining concerted actions to address current labour market challenges.
For one month, Paul Dahlem will thus shadow CEO Fabrice Poncé during his daily life within the Group. He will have the opportunity to actively take part in the projects of the group and give his opinion. A student at the University of Luxembourg, Philipp convinced the jury thanks to his natural leadership and his relational skills. Originally from Germany, his study and internships were mainly abroad: Shanghai, Warsaw, Luxembourg, Montreal.
"Beyond the CV, we first want to recruit a personality and a potential. This year we met a lot of talented candidates", said Fabrice Poncé.
The CEO for One Month adventure will not stop this summer for Philipp Dahlem. He will have the opportunity to participate in the programme at an international level. Indeed, in September, he will attempt to become the right-hand man of Alain Dehaze, CEO of the Adecco Group worldwide, for one month.