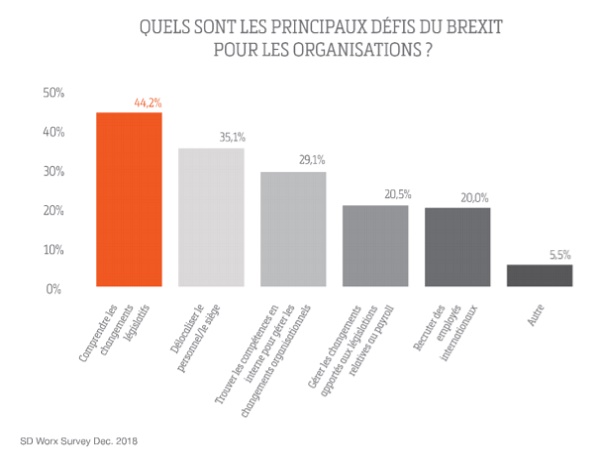 Credit: SD Worx
Almost one-third (32%) of companies in the UK and Europe believe that their HR and payroll departments lack the necessary skills to adapt to the changes associated with Brexit.
These results appeared in a survey carried out by HR service payroll provider SD Worx among 1,000 HR, payroll and legal professionals. The survey also revealed that 63% of respondents thought that Brexit will be a difficult development and a further 18% considered it to be very difficult.
To overcome this lack of skills, nearly two-thirds (64%) of the organisations will recruit external collaborators or provide internal training. The remaining 36% have not yet considered solutions or do not know how they will proceed to expand their skills.
This poses a challenge, not least because 28% of respondents admitted to not knowing the number of their employees working in the EU. The labour market will also be affected: almost seven out of ten respondents (69%) believed that Brexit will affect their hiring programmes in the UK and Europe. More than a third of them did not know exactly how their workers' contracts would change after Brexit (35%) whilst a third (32%) will recruit more staff in Europe.
With regard to Brexit preparations, the survey revealed the major challenges facing respondents as understanding new legislation (44%), transferring staff and/or company headquarters (35%) and finding internal skills in response to Brexit-induced changes (29%). The survey similarly highlighted the lack of fiscal and legal skills for such changes among 60% of companies, who will instead turn to third parties for advice.