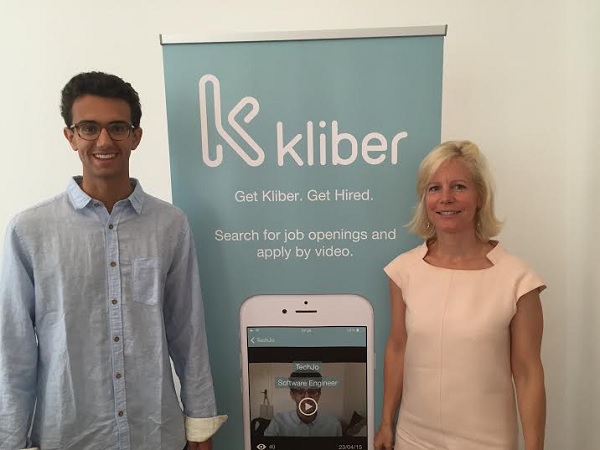 Luxembourg-based start-up Kliber has announced it has launched a mobile recruitment application connecting job seekers with their potential recruiters via video.
The iPhone® application was made available on 1 July 2015 on the App Store to consumers in Luxembourg, France, Belgium and Germany, with its official presentation by Kliber's co-founders Nathalie Dondelinger and Jonathan Levi taking place today.
A large number of major Luxembourg-based companies supposedly supported the entrepreneurs, understanding the potential of the new recruitment tool within rapidly evolving technology trends. Recruiters can post job openings on the recruiter platform, which is accessible online on a PC or on a mobile device under recruiter.kliberapp.com.
"As an employer myself, I encountered problems during the first selection of potential candidates: it costs a lot of time and effort," explained co-founder Nathalie Dondelinger. "It is hard to judge the culture-fit of a candidate based solely on a traditional CV. During the first recruitment stage, only a written document helps the recruiter evaluate a candidate, who will reveal his or her personality later during the interview. Beyond the career and educational paths, soft-skills must be evaluated to find the ideal candidate. The first impression counts, but the interview rarely ends right after that first impression, out of courtesy."
"I also noticed that the generation of digital natives communicates differently and faster," she added. "They have no time to lose, nevertheless they are not careless about looking for the right job."
For eighteen-year-old co-founder Jonathan Levi, Kliber is his second mobile application, which he helped create whilst finishing his secondary school studies in Luxembourg. His young age and capacity for innovation reflect the modern significant of technology.
"My generation lives on the mobile phone and in a world of selfies, Facebook and Twitter," stated Jonathan. "Communication habits have radically changed. The CV, however, has never been revised. Why not immediately impress the recruiter with one's personality alongside a traditional profile? The recruiter can discover my personality and my career path, without losing time in an interview. Applying by video on a mobile application seemed to be an instinctive and efficient solution."
The app allows the recruiting company to publish a video presentation of the company and/or job opening, which a job seeker can then apply to for free by answering four questions inked to the job position. The app then sends the information of the candidate together with their video to the recruiter.
The development of the app technologically complements other recent initiatives in Luxembourg aimed at revolutionising and accelerating the recruitment process. Examples include Inspiring More Sustainability (IMS)'s Speed Meeting Part&Act, and Banque Internationale à Luxembourg (BIL)'s Job Dating event which both took place earlier this year. The latter offered their support of the Kliber project, stating:
"We believe the Kliber application will be a useful tool in obtaining first contact with one of our main target groups which is the 'youth' of Luxembourg and the Greater Region: the application is modern, current, dynamic, intuitive and simple to use. It will therefore effectively complement our recruitment system and we will use it firstly to recruit trainees and graduates."
Photos by Kliber (Top: L-R: Kliber's co-founders Jonathan Levi and Nathalie Dondelinger. Bottom: Kliber presentation)