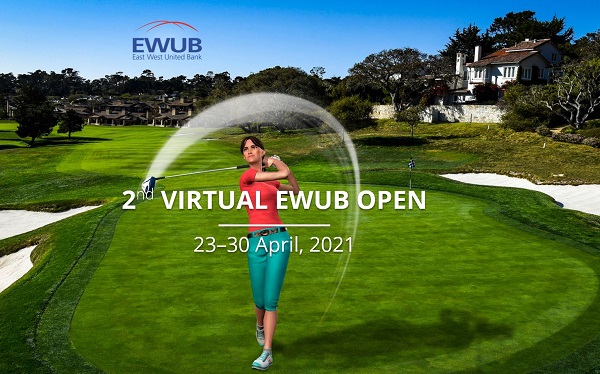 Credit: EWUB
Luxembourg-based East-West United Bank (EWUB) has announced that it is organising the second edition of its online golf competition, the Virtual EWUB Open, from 23 to 30 April 2021.
The tournament is based on the World Golf Tour (WGT) platform, one of the most realistic golf simulators with accurately reproduced world famous golf courses. The bank organised the first online competition during the lockdown in May 2020 as an alternative to its traditional EWUB Golf Cup tournament, which unites golfers from Russia and across Europe.
The virtual format of the game proved to be interesting for real players: more than 90% of the participants in 2020 had experience in playing at real golf courses. Among the participants were representatives of the clubs "Golf Grand Ducal", "Kikuoka Country Club" and "Golf de Luxembourg", as well as golfers from France and Russia.
Although golf clubs are now open, many players stayed loyal to their virtual club and continued their trainings online. As such, the bank has decided to continue its initiative and is inviting everyone to join the second Virtual EWUB Open tournament.
The competition is organised in stroke play format and players will be able to challenge the course an unlimited number of times to increase their chances of winning. Participation in the game is free and everyone can win virtual prizes.
"Our online tournament is an opportunity to feel the spirit of international competition again and refine theoretical knowledge of golf", explained Sergey Pchelintsev, CEO / Managing Director of EWUB and a golf enthusiast. "We hope that through the virtual format, more and more people will be able to discover and try this beautiful and challenging sport".
To participate and to find more information about the tournament, visit egolf.ewub.lu.