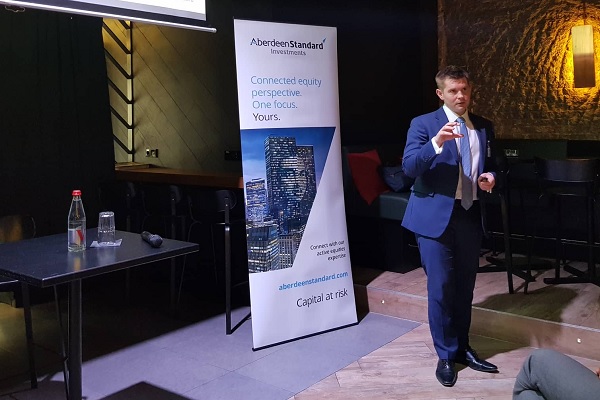 Graham McCraw, investment specialist at Aberdeen Standard Investments; Credit: Jazmin Campbell
On Wednesday afternoon, Aberdeen Standard Investments held a presentation on investing in smaller companies, at Knokke Out restaurant in Luxembourg-Clausen.
Leading the presentation was guest speaker Graham McCraw, an investment specialist based in the Aberdeen Standard Investments office in Edinburgh for the past eight years. During this lunch-time event, McCraw outlined the reasons why smaller companies, or small caps, have the potential to become the larger companies of tomorrow.
In the first part of his presentation, Graham McCraw focused on three main areas: return potential, risk perception and reality and diversification benefits of small caps. Firstly, he argued that a greater dispersion in returns (i.e. the difference between the returns of the top and bottom stock performers) and other market inefficiencies can actually prove beneficial to those wishing to invest in smaller companies, which often outperform larger ones. McCraw similarly emphasised long-term returns resulting from investment in smaller but higher quality companies, in order to generate higher returns.
Moreover, whilst Graham McCraw admitted that there was some truth to the "high risk, high return" perception often associated with small caps, he argued that the returns often tend to be much more significant than for larger companies. He added that a broader portfolio paired with significant investment (an allocation of more than 15%) to small caps can also lead to higher returns as well as less volatility. He also emphasised the importance of finding the right management team for smaller companies, arguing that it is easier to meet with and analyse staff members and managers when the team is small.
Concerning the diversification benefits of small caps, Graham McCraw explained how these smaller businesses offer exposure to a range of different risks. This is especially true since many are more driven by stock-sensitive risks.
In the second part of his presentation, Graham McCraw focused on Aberdeen Standard Investment's three strategies, in the UK, EU and globally, as well as the three key principles which contribute to the decision to invest in a smaller company: quality, sustainable growth and momentum. He added that in most cases, companies which possess all of these characteristics tend to be more expensive, but that this was an advantage since such companies are often the "dominant players in their particular niche" and thus the "leaders of tomorrow". McCraw also presented the screening "Matrix" tool used by Aberdeen Standard to determine if a company fits the aforementioned criteria and thus if it will perform well regardless of market volatility.
During his presentation, Graham McCraw similarly highlighted that the "under-researched nature [of small cap investment] gives active managers a greater chance to fill a gap in the market". He thus highlighted the need to be active rather than passive managers and consider small caps alongside larger cap exposure.
The event concluded with a Q&A session, followed by a networking lunch.