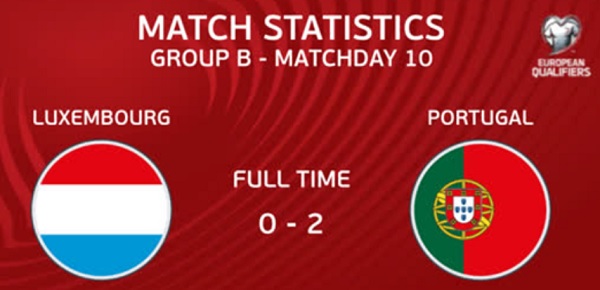 Following Thursday's 3-2 loss away to Serbia, Luxembourg lost 2-0 at home to Portugal on Sunday afternoon in the UEFA Euro2020 Group B qualifying matches at the Stade Josy Barthel in Luxembourg-ville.
Luxembourg did very well to go in just 1-0 at half-time to the current European champions, to a goal by Bruno Fernandes just 6 minutes before the half-time whistle, with Christiano Ronaldo securing the three points with a second goal with just 4 minutes left on the clock, his 99th for his country.
Luxembourg pressurised their opponents consistently for the opening 20 minutes and overall enjoyed 42% possession; however, the Red Lions only had one shot on target the entire match out of a total of 5 shots.
Ukraine topped the group with 20 points, with Portugal 2nd with 17 points; Luxembourg finished fourth on 4 points, ahead of Lithuania on one point.
Portugal have qualified for the finals, the draw for which will be held on 30 November in Bucharest.
On Thursday, Luxembourg scored 2 goals away to Serbia, courtesy of Rodrigues (54) and Turpel (75), in the same competition in the match played in Belgrade. Luxembourg had trailed 2-0 at half-time, got one goal back before conceding a third, then got their second with 15 minutes left in the second half, but could not find an equaliser before the final whistle blew.