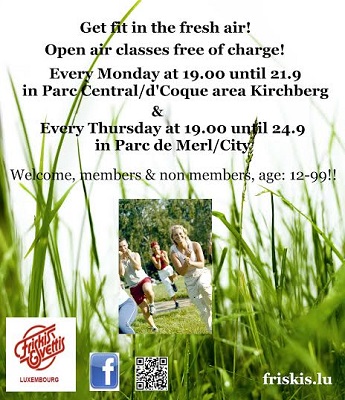 Non-profit sports club Friskis&Svettis Luxembourg today announced that it will be holding free fitness classes for both children and adults in parks around the Centre until 24 September 2015.
Friskis&Svettis, meaning Healthy&Sweaty in Swedish, will be providing free-of-charge work-out classes every Thursday at 19:00 on the lawn beside the café in Parc de Merl. These classes will continue until 24 September 2015.
A new place to work out this summer will also be at 'Park Central' at the kiosk by the d'Coque swimming pool, where participants can work out for free every Monday at 19:00 until 21 September 2015.
In addition, the club will be bringing back special kids classes, for ages 2 to 12, on 31 August 2015. These classes will be at 17:00 in Park Central Kirchberg on Mondays, and at 17:30 in Parc de Merl on Thursdays, right up until 24 September 2015.
Friskis&Svettis Luxembourg was founded in May 2000 and is run entirely by volunteers. The Friskis&Svettis organisation is comprised of 156 non-profit sports associations, based on the premise that "exercise should be high-quality, easily accessible and available, but mostly it should be enjoyable". According to the club, exercise with a smile is more likely to encourage people to persist in their fitness goals whilst, most significantly, enjoying what they are doing.
Poster by Friskis&Svettis Luxembourg