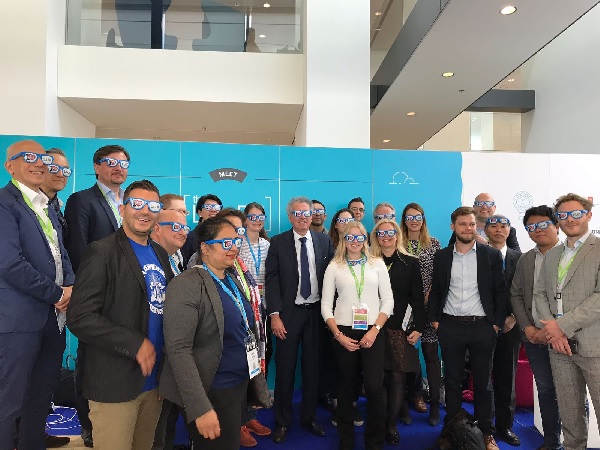 LHoFT ICT group pictured with Pierre Gramegna; Credit: LHoFT
As of Monday 14 May 2018, the LHoFT Foundation kicked off a week of intense activity, bringing Fintech companies and partners from all over the world to Luxembourg.
The objective of the initiative is to bring together all parts of the fintech ecosystem thanks to a selection of connected programmes and events including the ICT Spring - one of Europe's largest tech conferences - and the Fintech Europe 2018 investment programme for startups. The programme aims to promote the financial health of institutions, consumers, and businesses developed by Village Capital, in partnership with PayPal, Middlegame Ventures.
And so, on Monday this week, in partnership with Farvest and the House of Startups, the LHoFT welcomed some of the best International Fintech companies, coming for the ICT Spring to showcase their solutions in front of the financial actors of Luxembourg and in presence of Luxembourg Finance Minister Pierre Gramegna.
From DNA-Diligence and NetWork Amplifier, to secured payment solutions for Internet marketplace, payment gateway converted into a backend solution or even digitisation of assets using modern blockchain technology, the LHoFT and its partners hosted more than 25 Fintech Companies including Lemonway, Coriunder, DataSine, Railbank, Deecision, Elinvar, Neuroprofiler and Huddlestock, to name but a few.
The connections, discussions and collaboration between all these actors continued during the ICT Spring, where the LHoFT was one of the sponsors, and during the Fintech Europe programme hosted at the LHoFT until 17 May.