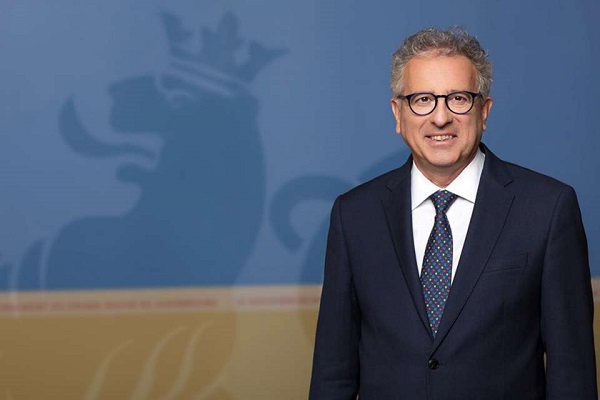 Pierre Gramegna, Luxembourg's Minister of Finance; Credit: SIP / Yves Kortum
On Monday 6 September 2021, Luxembourg published the first bond report relating to its pioneering sovereign sustainability bond issued on 7 September 2020, as foreseen by Luxembourg's Sustainability Bond Framework.
Luxembourg's Ministry of Finance explained in a statement that sustainability bond finances or refinances investments worth €1.5 billion until 2022, covering at least 65 projects in seven different sectors providing positive environmental and social outcomes. Among others, these investments will notably help avoid nearly 290,000 tonnes of CO2 emissions as a result of a modal shift in passenger transport, produce 6.4 million cubic metres of biogas per year for energy generation, restore and protect 8.6 hectares of natural habitat, increase student capacity by around 6,900 pupils and students, increase the bed capacity in hospitals by more than 550 beds, build 1,478 affordable housing units and support thirteen social inclusion projects.
This first sustainability bond report provides details on the allocation of the €770 million already invested between 2018 and 2020 as well as the expected impact of the investments. The document is primarily aimed at international institutional investors and includes the allocation and impact reports.
Pierre Gramegna, Minister of Finance, commented: "Luxembourg was the first European as well as the first AAA-rated country worldwide to issue a sustainability bond. Importantly, by issuing a bond to finance both environmental and social projects, Luxembourg set a signal that both causes are intertwined and encourages the growth of the emerging sustainability bond market. To provide the greatest possible level of transparency, this first report on the sustainability bond combines the allocation and impact reports, and provides detailed insights on the methodology and data used. While the full allocation of proceeds is planned by the end of the budget year 2022, over half of the total amount is already accounted for in this report".
Proceeds under the bond have been allocated in line with the Sustainability Bond Framework that Luxembourg published in September 2020, which complies with the International Capital Markets Association (ICMA) Sustainability Bond guidelines, the 2020 draft European Green Bond Standards (EUGBS) where relevant and feasible, as well as the recommendation of the Technical Expert Group final report on the EU taxonomy, on a best effort basis. The alignment of the Framework and of the allocation report have been independently assessed by Sustainalytics, a leading environmental, social and governance (ESG) ratings, research and analytics firm.
The Sustainability Bond Committee, led by the State Treasury, decided to allocate the proceeds from the issued bond to specific projects instead of state budget lines. This allows for a clearer identification of the allocation of the proceeds and underlines Luxembourg's objective to provide a maximum of transparency on the funded projects.
Minister Pierre Gramegna concluded: "The global pandemic has acted as a catalyst for sustainable finance, with governments focusing on qualitative investments in the dual transition – green and digital – in their efforts to 'build forward better'. In order to credibly grow this market and ensure investor trust, it is important to provide clear and transparent information on the projects funded as well as on their potential impact. This first Sustainability Bond Report is fully in line with these efforts and underlines Luxembourg's commitment to develop sustainable finance, at national as well as international level".