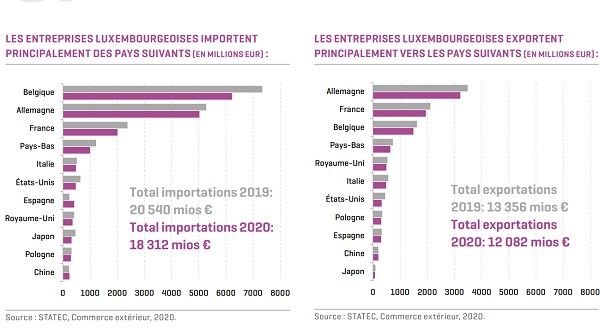 Luxembourg's largest trading partners in 2019 and 2020; Credit: STATEC
In its latest report, entitled "Un portrait chiffré des entreprises au Luxembourg" (a quantified portrait of companies in Luxembourg), the national statistics institute STATEC reported that both imports and exports in the Grand Duchy were negatively impacted by the COVID-19 pandemic last year.
In 2020, total imports amounted to €18.2 billion, down from €20.5 billion the previous year (i.e. a decrease of 11.2%). Exports were slightly less affected but followed a similar trend, dropping from €13.4 billion to €12 billion (down 10.4%) over one year. STATEC has attributed this widespread decline in both imports and exports to the economic crisis linked to COVID-19.
In both 2020 and 2019, Luxembourg's three neighbouring countries (Germany, Belgium and France) as well as the Netherlands accounted for nearly two-thirds of the Grand Duchy's total trade in goods. These four countries accounted for 80% of total imports and 60% of total exports.
According to the report, Luxembourg's trade with non-European countries was the most affected. For instance, imports from the United States fell by 30% compared to 2019. Conversely, imports from China rose by 8%, due to increased demand for face masks and medical devices.
The report also revealed that 50% of the drop in exports in 2020 is explained by the decline in iron and steel products and that of industrial machinery and equipment, due to the slowdown in industrial activity caused by the pandemic. Compared to 2019, last year saw industry production fall by 11% and production in construction fall by 8%.
In addition, the impact of the COVID-19 crisis is being felt over a much shorter period of time than the negative effect of the subprime mortgage crisis (a multinational financial crisis that occurred between 2007 and 2010).
These figures come from the report "Un portrait chiffré des entreprises au Luxembourg", published by STATEC on Monday. The 2021 edition reviews a series of relevant indicators, some of which take into account the impact of the pandemic of COVID-19. The full report is available as a PDF, in French, at: statistiques.public.lu/catalogue-publications/analyses/2021/PDF-Analyses-03-2021.pdf.