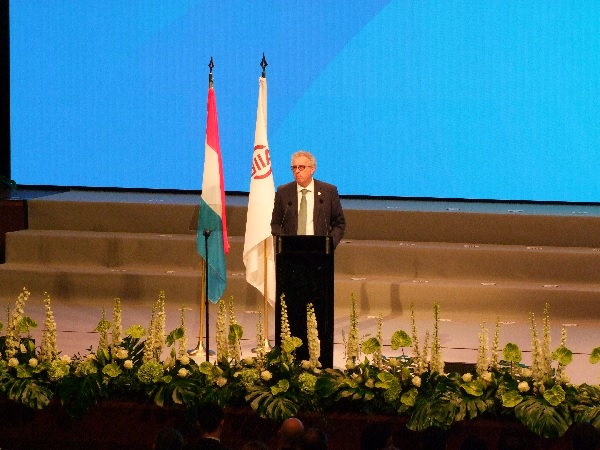 Finance Minister Pierre Gramegna at last year's AIIB meeting in Luxembourg; Credit: Jazmin Campbell
During yesterday's 5th Annual Meeting of the Asian Infrastructure Investment Bank (AIIB), Luxembourg's Minister of Finance Pierre Gramegna stressed the importance of international cooperation and multilateralism in the fight against the COVID-19 health and economic crisis.
With China hosting the 5th annual meeting, held via videoconference, President of the People's Republic of China Xi Jinping gave the keynote address at the opening ceremony.
In his speech at the Governors' Round Table, Luxembourg's Finance Minister Pierre Gramegna stressed that "international cooperation and multilateralism are essential to combat this health crisis and stimulate economic recovery. The only possible solution to avoid future crises is to accelerate the dual digital and sustainable transition of our societies. An international financial institution like the AIIB has a key role to play in achieving these priorities by strengthening connectivity between Europe and Asia and by launching public and private investment projects in these two regions".
Minister Pierre Gramegna also underlined Luxembourg's good cooperation with the AIIB, which in 2019 held its 4th annual meeting and first meeting outside Asia in the Grand Duchy and brought together more than 1,500 people from all over the world including governors, ministers, directors and delegates from its member countries. The Finance Minister explained: "Luxembourg's good collaboration with the AIIB and its hundred member countries opens the way to considerable potential synergies in the field of digital infrastructures and in the development of new, greener and more sustainable technologies".
Minister Pierre Gramegna also thanked the AIIB Chairman, Jin Liqun, for the excellent collaboration and the progress made by the bank since its creation in recent years. Jin Liqun was re-elected by the Board of Governors for a second term. Luxembourg's Finance Minister also approved of the fact that "the bank has obtained remarkable results since its launch. In some four and a half years, the bank has invested $12 billion in 63 projects among 21 of its members".
As part of the AIIB's COVID-19 Crisis Recovery Facility (CRF), sixteen projects totalling $5.962 billion have been approved and preparation is underway for eighteen additional projects worth $3.165 billion.
The bank's Board of Governors also formalised the decision to welcome a new member, the Republic of Liberia. The AIIB now has 103 member countries. The next annual meeting will be held in October 2021 in the United Arab Emirates, on the sidelines of the Universal Exhibition.