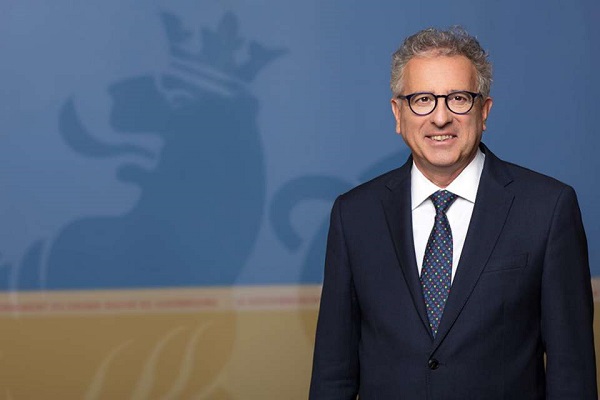 Pierre Gramegna, Luxembourg's Minister of Finance; Credit: © SIP / Yves Kortum
Luxembourg's Minister of Finance Pierre Gramegna today formally submitted his candidacy to become President of the Eurogroup.
On 25 June 2020, Pierre Gramegna was among three EU ministers to put forward his candidacy for the Eurogroup presidency; the other two candidates were Paschal Donohoe, Minister for Finance and Public Expenditure and Reform of Ireland, and Nadia Calviño, Deputy Prime Minister and Minister of Economic Affairs and Digital Transformation of Spain.
Minister Pierre Gramegna has underlined the urgency for Europe "to rapidly regain the path of recovery" and "to revitalise its competitiveness, convergence and resilience, including by embracing the green and digital transitions". In order to achieve this, he believes that the next Eurogroup President should aim at building bridges between "North and South and East and West", so that the "right conditions for a speedy upswing from an unprecedented sanitary crisis can be found".
As the President of the Eurogroup, Minister Gramegna would therefore devote his time and energy to "bring[ing] all sides together and carefully consider[ing] all aspects in order to find the golden mean acceptable to all", and thus putting solutions together that will combine "European solidarity and national responsibility".
Luxembourg's Finance Minister commented: "Through my candidacy, I am trying to play my part in contributing to more convergence and in finding consensus at a time when Europe is facing challenges of an unprecedented scale. I am convinced that the current crisis represents a unique opportunity for Europe and the Euro to emerge stronger and more united".
While the response to the economic challenges arising from the COVID-19 pandemic will constitute the prime focus in the coming months, Minister Pierre Gramegna has identified the work on the further deepening of the Economic and Monetary Union (EMU) as one of the priority areas for the years to come. Another priority will be the further increase of the transparency of the Eurogroup in order to "strengthen its legitimacy in the eyes of European citizens".
As Minister of Finance of Luxembourg, Pierre Gramegna has been a member of the Eurogroup for over six years. He was appointed to his current position in 2013 as part of the country's first three-way-coalition and was re-appointed Minister of Finance in 2018.
The election of the new president will take place at the next Eurogroup meeting on 9 July 2020. The Eurogroup President chairs the monthly meetings of Euro Area finance ministers and presents the outcomes of the meetings to the public. In addition, the president represents the Euro Area on the international stage. The election will take place through a simple majority vote for a term of 2 ½ years, with the duties of the president being carried out alongside the national mandate as Minister of Finance.