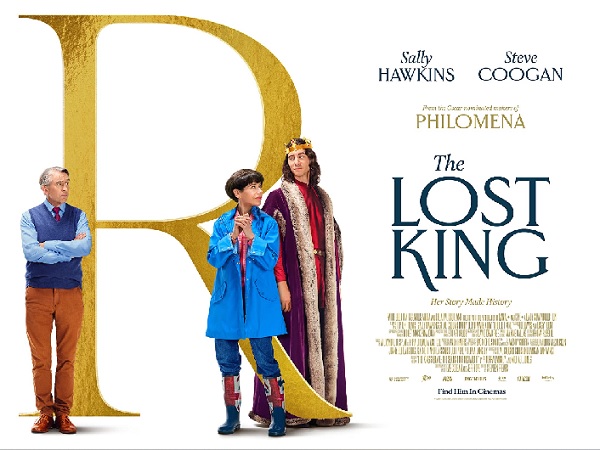 Directed by Stephen Frears (Dangerous Liaisons (1988); The Queen (2006); Philomena (2013); Florence Foster Jenkins (2016)) and starring Sally Hawkins (The Shape of Water (2017); Maudie (2016); Blue Jasmine (2013); The Phantom of the Open (2021)), Steve Coogan (who also co-wrote the screenplay; Philomena (2013); Stan & Ollie (2018); Alan Partridge (2013); The Professdor and the Madman (2019)), Lewis Macleod (The Amazing World of Gumball (TV series, 2011-13); Titanic (1997)) and Harry Lloyd (The Iron Lady (2011); Jane Eyre (2011); The Theory of Everything (2014)).

Drama; 108 mins; 6+

Based on the book The Search for Richard III by Philippa Langley (Sally Hawkins), an amateur historian defies the stodgy academic establishment in her efforts to find the remains of one of the most controversial kings in England's history, King Richard III, which had been lost for over 500 years.

Living in Edinburgh with her two young boys, she suffers from chronic fatigue which makes holding down a job difficult; she is separated from her husband John Langley (Steve Coogan) but he is frequently around. But she becomes fixated on the story of King Richard III and starts to see him (Harry Lloyd) in visions. She researches him in the library and joins a local King Richard III historical society. She believes she knows where he was buried and contacts the University of Leicester which is facing budget cuts and she is greeted with scepticism by both academics and experts.

However, she attracts some funding and, with the help of an ally at the university, Tony (Lewis Macleod), mainly because his job is on the line and he has little to lose himself, they start to apply for permission to excavate...

A feel-good, heartwarming and uplifting British drama which is filmed mainly in Edinburgh, partly in Leicester. Had the king's legacy been misrepresented?

The Lost King had its avant-premiere during the British & Irish Film Festival Luxembourg (BIFFL) 2023 Spring Edition and is now on general release in Luxembourg.