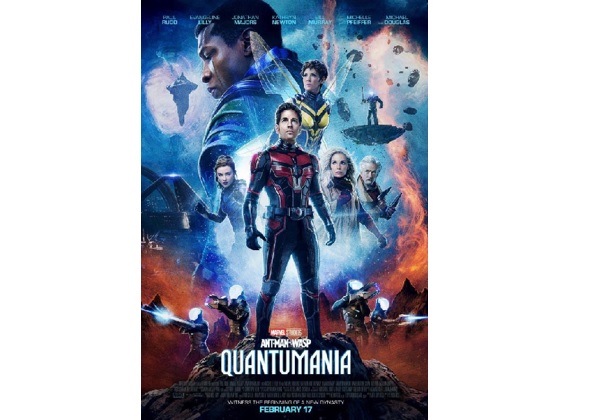 Directed by Peyton Reed (Ant-Man and the Wasp (2018); Bring It On (2000); The Break-Up (2006)) and starring Paul Rudd (Ant-Man and the Wasp (2018); Captain America: Civil War (2016); The Perks of Being a Wallflower (2012)), Michelle Pfeiffer (The Fabulous Baker Boys (1989); Dangerous Liaisons (1988); Love Field (1992); what Lies Beneath (2000)), Kathryn Newton (Freaky (2020); The Society (tv series, 2019); Three Billboards Outside Ebbing, Missouri (2017); Lady Bird (2017)), Michael Douglas (Wall Street (1987); One Flew Over the Cuckoo's Nest (1975); Basic Instinct (1992); The China Syndrome (1979)) and Evangeline Lilly (Ant-Man (2015); The Hobbit: The Desolation of Smaug (2013)).

Fantasy adventure; 125 mins; 12+

In many ways, a cross between Journey to the Centre of the Earth, Star Wars and other films. Despite the opening and closing scenes filmed in San Francisco, over 95% of this film must have been shot using green screens. The CGI effects are indeed spectacular and do divert the audience's attention away from the storyline. Whether that is a good or a bad thing rather depends if you are a fan of Marvel Studios and their work, or not...

Scott Lang (Paul Rudd), aka Ant-Man, who has the ability to shrink / expand his size at the touch of a button (on his chest), is transported to another world, the the Quantum Realm, along with his daughter Cassie Lang (Kathryn Newton), Hope Van Dyne (Evangeline Lilly), Janet Van Dyne (Michelle Pfeiffer) and Dr. Hank Pym (Michael Douglas). Some of his companions have super-powers too. This is world of wonderful plants and creatures, but hidden threats.

They meet a number of characters including Lord Krylar (Bill Murray) and Kang The Conqueror (Jonathan Majors), the latter with whom Janet has a chequered history.

While the storyline is predictable and without substance, the clichéd script is unconvincing. Despite the special effects, it is underwhelming. However, the ants are awesome!

Currently screening at Kinepolis and CiNextDoor in Luxembourg.