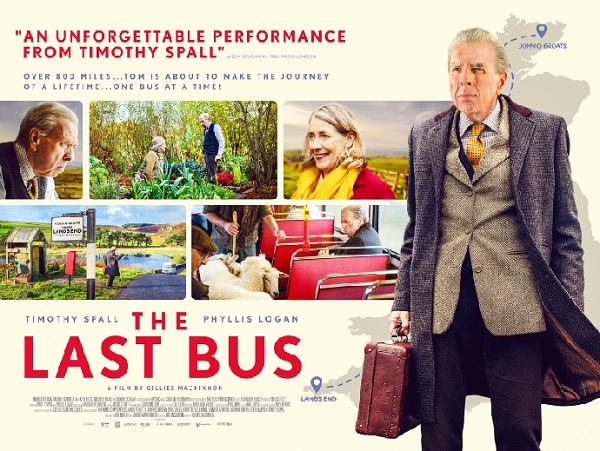 Directed by Gillies MacKinnon (Whisky Galore; Castles in the Sky; The Escapist; Tara Road) and starring Timothy Spall (Mr. Turner; Mrs. Lowry and Son; Harry Potter and the Deathly Hallows: Parts 1 & 2), Phyllis Logan (Downton Abbey; Downton Abbey (TV Series); The Good Karma Hospital (TV Series)), Natalie Mitson (Last Train to Christmas; The Larkins (TV Series)) and Ben Ewing (One of Us; Clique; The Zeroes).
Drama; 86 mins; 6+
A thought-provoking, melancholic and emotional drama that sees Tom Harper (Timothy Spall; Ben Ewing as Young Tom) undertake a trip from John o' Groats to Land's End following the death of his wife Mary (Phyllis Logan; Natalie Mitson as Young Mary).
Tom, an elderly pensioner who had worked as a mechanic, had moved with Mary from Land's End to John o' Groats; he had wanted for some time to return, but she had been reluctant. He made a promise to her that he would make the trip; he planned his route on a map of Britain and used his bus card to travel from north to south, renowned as the longest distance between two points on mainland Britain. Along the way, he plans to stop at various places (cafés, restaurants, B&Bs, etc.) that he and Mary has themselves stopped at on their journey up north all those years ago.
His journey took many turns, both in relation to the people he came across, and also as a result of falling asleep on various buses and missing his stops. The scenery he passes is breath-taking - he also finds himself in inner cities including Glasgow and Preston - and many of the incidents and predicaments he finds himself in are heart-warming.
The film features a number of flash-backs to their younger days when they were newly-weds and madly in love, a love that never diminished. In the background throughout is the love story between Tom and Mary. But this is not necessarily a story about an elderly man on a road trip; it also will appeal to younger audiences due to the use of social media...
Anther British drama with fabulous acting by established actors in roles you would not normally associate them.
Currently being screened at Ciné Utopia and CiNextDoor.