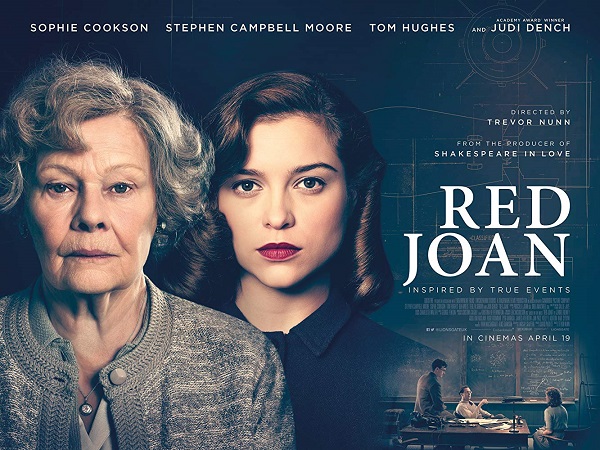 Directed by Trevor Nunn (Twelfth Night or What You Will; Lady Jane) and starring Judi Dench (Philomena; Skyfall; Mrs Brown; Chocolat; Murder on the Orient Express; The Best Exotic Marigold Hotel), Sophie Cookson (Kingsman: The Golden Circle; The Huntsman: Winter's War), Tom Hughes (About Time; Sex & Drugs & Rock & Roll) and Tereza Srbova (St. Trinian's; Eastern Promises).
Historical drama; 101 mins; 12+
When the authorities came knocking at the door of retired Joan Stanley (Judi Dench), they interrogated her and accused her of being a spy for the KGB. The film primarily goes back to wartime when she was a scientist working in a team to develop nuclear power which she viewed as a deterrent, not a weapon.
The flashbacks showed how a young Joan (Sophie Cookson) met up with brother and sister Leo Galich (Tom Hughes) and Sonya Galich (Tereza Srbova) who were labelled as communists in Cambridge student society; they admitted that they were soviet jews who had moved to Germany but then fled to England with the rise of nazism.
Based on a true story, Red Joan portrays the lead character as a pacivist who had principles, but who was also human and fell for Leo. In current-day England, Joan's relationship with her son, a lawyer, is severely tested as he fears that her mother could have been a traitor.
But is the case an open-and-shut, black-and-white case?
Superb acting in a wartime setting; great costumes and cinematography; atmospheric.