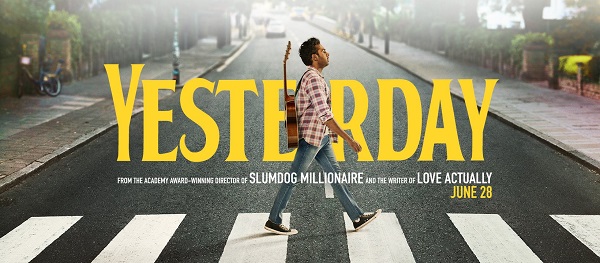 Directed by Danny Boyle (Slumdog Millionaire; 127 Hours; 28 Days Later...; The Beach; Trainspotting) and starring Himesh Patel (EaseEnders (tv series)), Lily James (Mamma Mia! Here We Go Again; Cinderella; The Guernsey Literary and Potato Peel Pie Society; Darkest Hour; Baby Driver; Downton Abbey (tv series)) and Ed Sheeran (Bridget Jones's Baby; Game of Thrones (tv series)).
Musical comedy drama; 116 mins; 6+
The feelgood summer film of 2019 featuring Jack Malik (Himesh Patel), a struggling musician who, after an unexplained worldwide blackout, starts to realise that he may be the only person on Earth who can remember The Beatles. Apparently Coca Cola has not yet been invented, but Pepsi Cola has, and a number of other major brands also do not exist.
Together with his ever-supportive friend and manager, Ellie Appleton (Lily James), he starts singing the songs, once he can remember all the lyrics, that is. In particular, he struggles with those of Eleanor Rigby throughout the film...
He starts to get noticed and become famous but struggles with the burning question: should he reveal that he is not the songwriter, or should he just keep quiet and exploit the situation into which he now finds himself. Particularly when he is approached by none other than Ed Sheeran (himself) who then challenges him to a song-writing contest... Then there is another burning question: how can he write about Liverpool landmarks without ever being in the city?
A stunning soundtrack with a blended mix of spontaneous dance routines and concert performances that will have you tapping your feet and humming the tunes. British cinema at its very best.