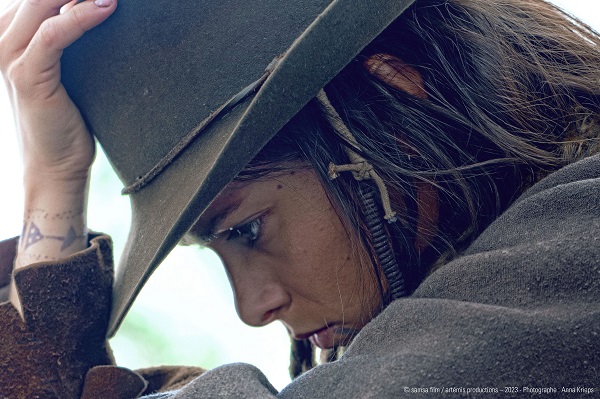 Sophie Mousel, actress; Credit: Samsa Film
Film Fund Luxembourg and D'Filmakademie have announced that The Last Ashes (Läif a Séil) will represent Luxembourg at the 96th Academy Awards (Oscars).
This year again, D'Filmakademie appointed a selection committee responsible for choosing which film would compete for Luxembourg in the "Best International Feature Film" category at the 2024 Oscars, as well as in the "Best European Film" category at the Goya Awards (Spain's main film awards).
The Goya Awards ceremony will take place on 10 February 2024, whilst the Oscars ceremony is scheduled for 10 March 2024.
For these two competitions, the committee selected The Last Ashes, directed by Loïc Tanson and produced by Samsa Film. The committee members described this as a "particularly well-made, controlled and powerful" Western film, which explores and fictionalises Luxembourg in the 19th century.
Nevertheless, the selection committee noted the "rich and profound diversity" of the various Luxembourg films which had been submitted for consideration.
Synopsis: The Last Ashes is a modern women's Western, set in Luxembourg in 1854. Hélène returns to her native hamlet, which suffers from the tyranny of the patriarchal Graff family, with only one desire: ruthless revenge.
The largely Luxembourgish cast features: Sophie Mousel, Timo Wagner, Jules Werner, Luc Schiltz, Marie Jung, Philippe Thelen, Jeanne Werner, Jean-Paul Maes, Denis Jousselin, Max Gindorff, Tommy Schlesser, Larisa Faber, Konstantin Rommelfangen, Giusi Carenza, Jamie Baillie and Lou Beltramini.
The film was produced by Claude Waringo and Samsa Film and directed by Loïc Tanson, with a screenplay by Loïc Tanson and Frédéric Zeimet. Nikos Welter was the director of photography.
The selection committee was composed as follows: Aude-Laurence Biver, actress, director and President of Actors.lu; Donato Rotunno, director, producer and President of ULPA; Kim Schneider, director; Sarah Bamberg, Executive Officer at Film Fund Luxembourg; Yann Tonnar, director, producer and President of D'Filmakademie; Yves Steichen, film-TV department of the Centre National de l'Audiovisuel (CNA).