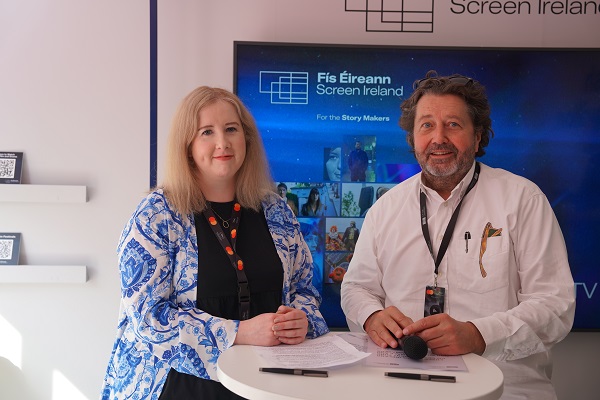 (L-R) Eimear Markey, Development Manager at Screen Ireland; Guy Daleiden, Managing Director at Film Fund Luxembourg; Credit: Film Fund Luxembourg
On Thursday 25 May 2023, Film Fund Luxembourg and Screen Ireland, the national agency for the development, production and distribution of Irish film, announced that applications are now open for the Luxembourg-Ireland Co-Development Fund for Female and Non-Binary Filmmakers at this year's Cannes Film Festival.
Originally announced in 2019, the Co-Development Fund is an incentive for feature film and television projects written and/or directed by filmmakers who identify as female or non-binary. The initiative aims to improve the representation of female and non-binary filmmakers across the screen industry, in both Ireland and Luxembourg. €120,000 will be allocated to the fund for 2023 on a 50/50 basis from both funding bodies.
Eimear Markey, Development Manager at Screen Ireland, commented: "At Screen Ireland, along with our partners in Film Fund Luxembourg, we're delighted to open applications for the Ireland-Luxembourg Co-Development Fund. The Cannes Film Festival was where we announced plans for this collaboration back in 2019 and we're delighted that applications are now open. The fund is an important initiative in continuing to support European partnerships and we especially hope this ensures both female and non-binary voices from both Ireland and Luxembourg are given a fresh opportunity to tell authentic and original stories close to their hearts."
For the 2023 iteration of this scheme, applications are encouraged from projects that engage with new, emerging and underrepresented voices. In addition, the incentive will continue to foster co-operation, strengthen production ties and build on the success of recent co-productions between Luxembourg and Ireland, including feature films Mammal, A Greyhound of a Girl, Never Grow Old, Wolfwalkers and Two by Two: Overboard!
Guy Daleiden, Managing Director at Film Fund Luxembourg, said: "Film Fund Luxembourg is delighted to renew this call for projects with our long-standing partners at Screen Ireland. We strongly believe that by focusing on collaboration at development stage we can nurture strong professional relations between Luxembourg and Ireland that will benefit both our industries in the long term. The co-development fund also ties in with our objective to make our industry more diverse and strive for good balance and representation in the international co-productions we support."
The fund is part of Screen Ireland and Film Fund Luxembourg's ongoing commitments to diversity, equity and inclusion, with particular support for female filmmakers and improving gender equity across key creative roles in the industry. Screen Ireland previously launched schemes for female filmmakers, including POV, which has supported feature films from female creative teams and has seen success at the Toronto International Film Festival, SXSW and the Irish Film and Television Academy (IFTA) Awards in recent years. Screen Ireland and Film Fund Luxembourg also both contribute to the New Dawn international co-production fund to improve representation in the industry.
The Luxembourg-Ireland Co-Development Fund will support projects with a maximum combined contribution of €40,000 per project involving producers from Ireland and Luxembourg and allow them to access development funding in both countries.
A selection committee, composed of representatives from Film Fund Luxembourg and Screen Ireland and potential external experts, will assess the submitted projects.
Applications are now open and the closing date to submit projects is Monday 2 October 2023.
Further details on guidelines and how to apply can be downloaded as a PDF here.