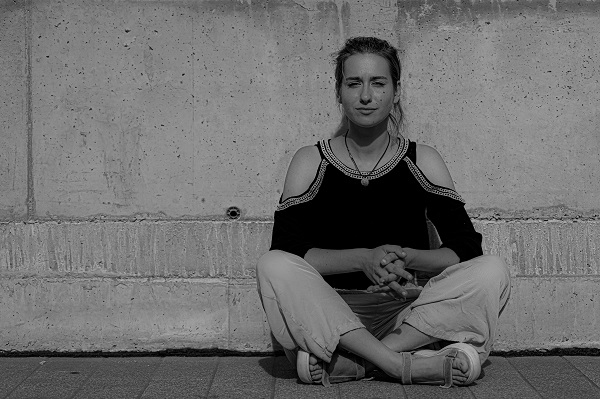 (Above) Naadia Vaganova, Ukrainian artist-turned-director; (below) Irina Popova, Russian pianist; Credit: Ali Sahib
Chronicle.lu recently sat down with Naadia Vaganova, an artist from Ukraine, who visited Luxembourg over the weekend with her pianist colleague Irina Popova to meet with and present their new film to Ukrainian refugees.
This article is part of a series of human-centred stories about Ukrainian refugees and others in Luxembourg affected by the Russia-Ukraine war.
Naadia is a 22-year-old art teacher-turned-filmmaker from the Ukrainian village Shchaslyve (located between Kyiv and Boryspil International Airport); Irina is a fellow teacher and pianist, who is originally from Russia but has lived in Kyiv since 1985. Together, they have been trying to create a safe and fun space for children in war-torn Ukraine, as well as working on a film about the war called "I Don't Know".
Chronicle.lu: Please tell us a bit about yourself and why you decided to come to Luxembourg.
Naadia Vaganova: I am an artist and until 24 February 2022, I worked at an art school with children. On 24 February, they [the Russian Armed Forces] began to bomb Kyiv. There were air alerts and checkpoints. On 26 February, I ran through the checkpoint to the neighbouring village to my children (the schoolchildren - they are like my children) in the basement. My pianist colleague Irina and I found a basement in the village of Prolisky [to the east of Kyiv] and created an underground cinema for children there. This basement became our only moral refuge from the war. Children came to the only safe place in the village to talk to each other, watch cartoons, read books, celebrate birthdays and eat candy floss - we got a kilogram of sugar from humanitarian aid and we made candy floss.
Day after day, I ran through the checkpoints to the basement and they already knew me there. Defence volunteers came to visit the children so that they felt that they were being protected. When the invaders were forced out of the Kyiv region, we became calmer. But the war is not over. And the information war, from which children suffered the most, only worsened. I said we're making a film. This is our salvation - to occupy ourselves with at least something, to occupy the children, to distract the military a little from this terrible nervous everyday life.
And here I am in Luxembourg; we left Ukraine to show our film and talk about our basement and about our children. We came to meet with refugees from Ukraine to support them, to meet with Europeans to say: "We exist! And we want to live! Our children want to live!". We have come to look at ourselves from the outside.
Chronicle.lu: Please tell us more about Irina and how you know each other.
Naadia Vaganova: Irina is my colleague who works with me at school and plays the piano with the children. Since 26 February, we have been inseparable, together in the basement with the children. She shared sweets from humanitarian aid between the children and worked with our children when I had business. Irina is a courageous woman who supports, understands and loves every child, both our students and children who did not study at our school before, and children who came to us from those cities that, in fact, no longer exist. Irina herself gives concerts for the military, for whom support and art are so important now.
Chronicle.lu: What inspired your decision to make a film? Who else is involved in its production?
Naadia Vaganova: The idea to make a film came to me spontaneously and, to be honest, I have never done anything like that. There were wonderful people who delved into our history, realising that we have little money and agreed to work with us. In the film, a real basement was shot, exclusively our children, our military. The camera operator is Max Kalinichiy and the editor is Oleksandra Konoplia. The film was made from our modest teacher salaries which were cut due to martial law (my salary is about €250 per month).
Chronicle.lu: What is the film's main message?
Naadia Vaganova: My message to people who will watch our film and read our story is very simple - we don't want war. We don't want to sit in the basement. We don't want to hide children. Every second, none of us is safe; none of the Ukrainian children are safe. Children are the most valuable thing we have. Children are the weakest link in society. Everyone has access to the internet, and so do children, and when reading the news, children cannot filter information. We need to talk to each other, and especially to children. And how do you talk to children about the war? I don't know. We are artists and we want to draw. We are musicians and we do not want sirens, but music. We are children, we want candy floss. Why is war needed? All children answer: "I don't know". And I don't know.
Chronicle.lu: Will you return to Ukraine? If so, when?
Naadia Vaganova: Yes, I'm returning to Kyiv on 29 July. We left for ten days to visit Poland, France, Luxembourg and Belgium to present our film. I need to get back as soon as possible, because I have my children there and my basement. I'm a defence volunteer and I'm doing theatre for children and I can't leave for a long time.
Chronicle.lu: What are your plans for the future?
Naadia Vaganova: I have a lot of plans for the future! When the war is over, I will go to Europe with my beloved, whom we met during the war and serve together. When the war ends, I will draw a lot, because now there is not enough time for this. I so want to draw! I will put on an exhibition of my students' work at the Louvre. Then I will have my own large art institute in the centre of Kyiv on nine floors. I will shoot another film - but [this one will be] joyful and kind. My plan is very simple - live, love, enjoy and draw.