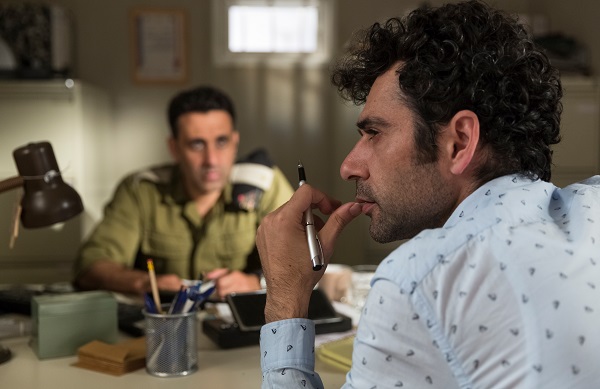 Tel Aviv on Fire film scene; Credit: Film Fund Luxembourg/Samsa Film
The national Oscars selection committee has chosen "Tel Aviv on Fire" to represent Luxembourg in the the Best International Feature Film category at the 92nd edition of the Academy Awards, taking place on 9 February 2020 at the Dolby Theatre in Hollywood.
Tel Aviv on Fire, Sameh Zoabi's second feature film, was produced by Luxembourg's Samsa Film (Bernard Michaux) and TS Productions (France) in co-production with Lama Films (Israel) and Artemis Productions (Belgium). The film also received support from the Film Fund Luxembourg. It stars Kais Nashif, Lubna Azabal, Yaniv Biton, Nadim Sawalha, Maisa Abd Elhadi and Wafaa Abo Zarifa as the main characters.
In addition, 70% of filming took place in the Grand Duchy, for instance at the "Filmland" studio in Kehlen, as well as in Saeul and Dommeldange, and several Luxembourgers were involved in the production of the film. Among them were the film's director, Solveig Harper, and first assistant director, Laurence Rexter-Baker, along with production manager Christina Schaffer, costume designer Magdalena Labuz and head of make-up Jasmine Schmit. Other local talents included music director André Dziezuk, sound editor Pia Dumont, film-set photographer Patricia Peribañez, location managers Tiago Hof and Ulrika Debatisse, Eric Nicolas Smit, who was in charge of special effects, assistant set decorator Marie Janezic and Manu Demoulling, who was responsible for props.
Set during the Six Day War in 1967, Tel Aviv on Fire follows Salam, a 30-year-old Palestinian living in Jerusalem, who works as a trainee on the set of the hit Arabic series "Tel Aviv on Fire". Every morning, he crosses the same roadblock to work in Ramallah. One day, Salam is questioned by Assi, an Israeli officer and fan of the TV series. To get out of trouble, Salam claims to be the show's scriptwriter but he falls into his own trap and is forced to write a new scene for Assi.
Tel Aviv on Fire celebrated its world premiere in September 2018 as part of the official selection of the 75th edition of the Venice Film Festival where the film won the Orizzonti Award for Best Actor (Kais Nashif). The film has also won some 20 other awards, including the Jam Prize for Best Music (André Dziezuk) at the Montpellier Cinemed Festival. The Luxembourg premiere took place in March 2019 as part of the ninth Luxembourg City Film Festival and was released in cinemas the following month. US-based Cohen Media Group is responsible for distribution.
Academy Award nominations for the International Feature Film category will be announced in January 2020.
The national Oscars selection is composed of eight people representing Luxembourg's film industry: Yves Steichen, Centre national de l'audiovisuel (CNA); Vesna Andonovic, journalist; Aude-Laurence Clermont Biver, Actors.lu; Nicole Dahlen, Cinémathèque de la Ville de Luxembourg; Guy Daleiden, Fonds national de soutien à la production audiovisuelle (Film Fund); Alexandre Dumreicher-Ivanceanu, Union luxembourgeoise de la production audiovisuelle (ULPA); Jim Probyn, Association luxembourgeoise des techniciens de l'audiovisuel (ALTA); Christophe Wagner, Association des réalisateurs et des scénaristes (LARS).