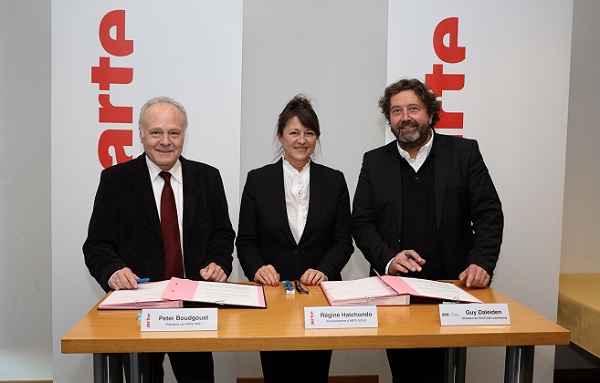 ARTE, Film Fund Luxembourg collaboration (L-R): Peter Boudgoust, President ARTE; Régine Hatchondo, Vice-President ARTE; Guy Daleiden, Director of Film Fund Luxembourg; Credit: Frédéric Maigrot
On Wednesday 12 December 2018, within the framework of the General Assembly of the Franco-German television channel ARTE, a partnership was agreed with Film Fund Luxembourg, with the signing ceremony taking place at ARTE's headquarters in Strasbourg.
Faithful to its mission of "fostering the understanding and rapprochement of the peoples of Europe", ARTE is implementing an ambitious strategy of coproduction and dissemination of quality programming in Europe.
The Association Agreement reinforces ARTE's European deployment by integrating for the first time Luxembourg with an advisory role to ARTE's governing bodies and thus enabling all German-speaking and French-speaking countries of the European continent to be represented among the chain's partners.
In this context, ARTE and the Film Fund Luxembourg have agreed to undertake to invest together in developments and co-productions intended to be broadcast on ARTE and / or made available via its digital platforms. They have also undertaken to promote the development of audiovisual and cinematographic projects - in particular series of fiction as well as innovative projects - between Film Fund Luxembourg on the one hand and ARTE France and ARTE Deutschland on the other hand.
Film Fund Luxembourg has supported various ARTE co-productions in the past, notably the "Bad Banks" series and the "1918-1939: les rêves brisés de l'entre-deux-guerres" documentary series (the broken dreams of the inter-war period), both co-produced by Iris Productions.