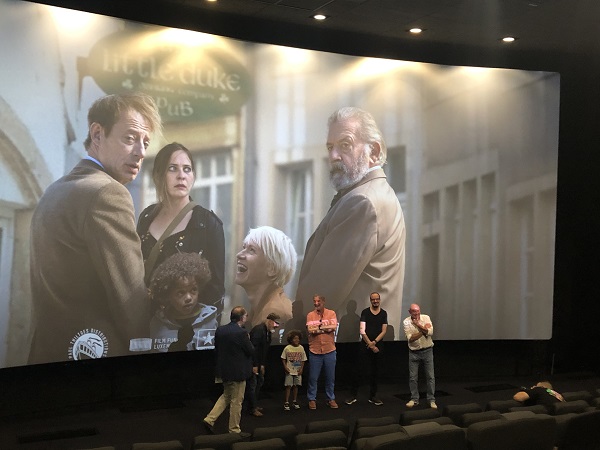 Q&A during BIFFL screening of Little Duke, with film director Andy Bausch (second left) and members of the cast and film crew; Credit: Otilia Dragan/Chronicle.lu
Chronicle.lu recently had the opportunity to speak with local film director Andy Bausch, about his latest film Little Duke, which screened at Ciné Utopia on Sunday 17 September 2023 (followed by a Q&A with members of the crew) as part of the autumn edition of this year's British and Irish Film Festival.
Little Duke tells the story of two ageing, impoverished friends struggling to keep an old Irish pub going in Luxembourg-Pfaffenthal. It is a drama with comedic touches; a tale of family and chosen family bonds, of love, struggle with drug addiction and financial troubles and of the new problems an inheritance may pose.
Chronicle.lu: What inspired the plot of Little Duke?
Andy Bausch: Telling a story about friendship, two older guys struggling in this not-so-comfortable and more and more complicated world… maybe. The idea of having an Irish pub as main location was there from the beginning on. But a lot of it happens in writing… during a couple of years.
Chronicle.lu: Were the film's themes and stories directly related to Luxembourg and tales of its people?
Andy Bausch: I'm the guy who started Luxemburgish movies… back in the eighties. I also worked for about ten years in Germany (in Berlin, Munich, Hamburg, Cologne) making television movies, some of them with big budgets, but they weren't my stories. I want and need to tell stories about my country. And […] the smaller your country is the more important it is that your country has a cinema of its own. The stories… they're all invented. Very much inspired, but invented.
Chronicle.lu: What are the main ideas you wanted to showcase in Little Duke? Is there a main message or did you want to leave it open to interpretation?
Andy Bausch: I don't send messages. I tell stories, they may reflect people's life. They - I hope - reflect the reality of this country, even if some people want to show another image of the country. And - I don't know why - in my storytelling I have an affection for the losers, the ones who are struggling.
Chronicle.lu: What was the biggest challenge you faced making Little Duke?
Andy Bausch: The little one. That little boy, played by six-year-old Mayson. We only found him like two or three weeks before shooting. The rest was a good crew and 38 years' experience in filmmaking.
Chronicle.lu: How did you cast the film?
Andy Bausch: Most of the actors I have in mind when I write, certainly the leading parts, and most of them I worked already a couple of times - like André Jung, I think it's our twelfth collaboration. It's all old companions and new discoveries. A mix. And sometimes you have somebody in mind for the part, who even wants to play it and when you finally arrive to get the money to do the movie, the actor is not available.
Chronicle.lu: How did you find the child actor to play Little Jules?
Andy Bausch: As I said, we were lucky. Casting agency… eighteen kids responded to age and skin colour, fourteen showed up, thirteen were... well, not really good… one was excellent. Pure luck!
Chronicle.lu: How would you describe your directing style?
Andy Bausch: I like emotions, I like working with my dream team, nice and good technicians…a familiar ambiance. I know what I want, and every detail is prepared (storyboarded) but I talk to the people, [I am] open to them. One also could say, "he always gets what he wants".
Chronicle.lu: How do you envision Little Duke's contribution to social discourse, particularly related to drug addiction?
Andy Bausch: Is it really drugs that make Dani let go? Suicide or accident… we never know. Does the film contribute anything or just reflect what there is? In my moviemaking I always had an interest and affection for people who struggle to survive. But only in my moviemaking.
Chronicle.lu: When was the film shot? Was scheduling in any way affected by the COVID-19 pandemic?
Andy Bausch: The shooting was March to June 2022. It was not affected by COVID. I recall that one morning all of a sudden half of the crew was wearing masks… again! I did not, nor did the actors - I had my third vaccination and was not afraid. That was for half a morning and then the message was, the one [who tested] positive was one of the decoration people, who was preparing the set a day or two before. You have to know, even when you have a crew of 70 people, only about 30 are on set, when shooting scenes.
Chronicle.lu: On what film project(s) are you currently working? Maybe a return to documentaries or further drama?
Andy Bausch: I had a documentary project about the value of photography now and 100 years ago. That was exactly in the beginning of the pandemic. I did not get the money to do it. So that was my last undone documentary. Actually, I'm writing the next drama, yes you may call it so, why not. As they say, after the game is before the game.
During the Q&A, after the screening of Little Duke, Andy Bausch and co-producer Paul Thiltges elaborated on how they chose filming locations. They noted that the chosen pub location in Pfaffenthal is an "old, charming house" that they built in their studio located in Kehlen, for ease of access and the possibility of filming from any angle, but also for other reasons such as having a quiet environment, fans for air circulation. They discussed how realistic and ideal this location was (with real-sized photographs of the street behind the pub windows, making it look like the real location in Pfaffenthal) and explained that their set decorator measured every corner of the house director Andy Bausch fell in love with, to recreate it in the studio down to every detail. "Everything was working – when we had to tear it down, we thought about putting it somewhere as a real pub. Unfortunately, it would not have been safe. It had to be destroyed, but it was one of our favourite locations to film on," Paul Thiltges said. They added that they "almost cried" when it had to be torn down.