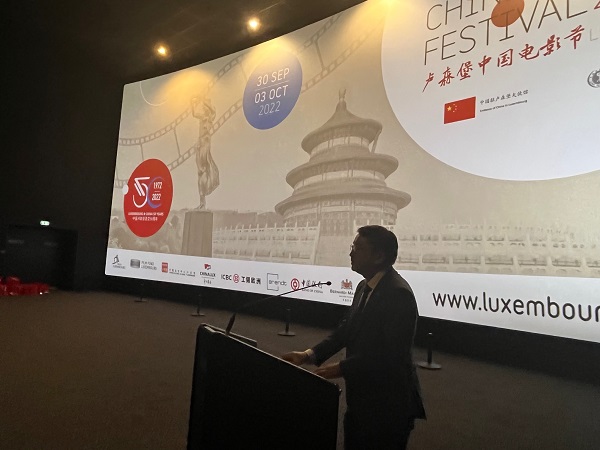 Ambassador of China, Hua Ning; Credit: Chronicle.lu
On Friday 30 September 2022, the Chinese Film Festival kicked off at Kinepolis-Kirchberg, with the screening of Nice View.
Organised by the China Cultural Center Luxembourg (CCCL) and the China-Luxembourg Chamber of Commerce (ChinaLux), the festival was created to celebrate the 50th anniversary of diplomatic relations between the People's Republic of China and the Grand Duchy of Luxembourg.
Before the screening, the recently-arrived Ambassador of the People's Republic of China to Luxembourg, H.E. Mr Hua Ning, addressed the audience. He spoke of the "wonderful banquet of film" which will present a better understanding between China and Luxembourg. He thanked the CCCL and ChinaLux, and referred to the tremendous support received from sponsors and partners.
He continued by referring to the "model of excellence" between two countries with sharp differences in size, culture, etc., and he also addressed cultural exchanges. He added that, with China opening wider to the world, it has become "one the largest movie producers in the world", and stated that many Chinese producers and directors portray life in China for both domestic and worldwide audiences.
He concluded by stating that the success of the festival will broaden the horizons of the two peoples.
Maurice Bauer, Alderman of Luxembourg City, said what a pleasure it was to be at the first Chinese Film Festival in Luxembourg. He referred to almost three years of "horrible times" when people could not watch films together in cinemas. He referenced the diversity of the city of Luxembourg which represents 69 nationalities, of which Chinese nationals are important in the city which prides itself on its diversity.
Directed by Wen Muye and starring Jackson Yee, Nice View is a feel-good drama, an ideal way to launch such a festival. It tells the story of a 20-year-old who lives alone with his young sister in Shenzhen. They struggle to make ends meet; however, she is not well and needs surgery, but it will be expensive. The small telephone repair shop he runs will not enable him to earn enough for her treatment, so he grasps an opportunity which, if it works out, will result in rewards. The journey has its ups and downs... (in Mandarin with English subtitles).
The other five films are being screened at Ciné Utopia in Luxembourg-Limpertsberg:
Sat 1 Oct @ 19:00: The Captain (action); @ 21:15: Wandering Earth (science fiction)
Sun 2 Oct @ 16:30: White Snake (animation drama); @ 19:00: Hi, Mom (comedy drama)
Mon 3 Oct @ 19:00: Cliff Walkers (historical spy drama)
Further details (including synopses and trailers) can be found on https://www.ccclux.lu/shows.