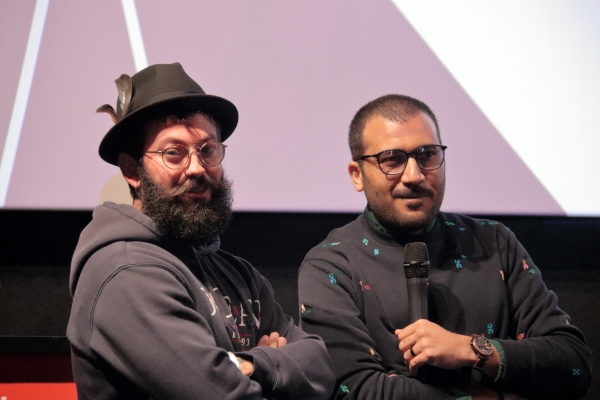 L-R: Christophe Mendes, photographer; Ali Sahib, photographer & director of "From Iraq to Ukraine: Every Picture Tells a Story"; Credit: Kangkan Halder / Chronicle.lu
On Thursday evening, Chronicle.lu marked its 10th anniversary with a social community event organised, in partnership with Kachen and LUkraine asbl, in the framework of the 13th British & Irish Film Festival Luxembourg (BIFFL).
This "Solidarity with Refugees" event featured the world premiere of local photographer and director Ali Sahib's documentary short film "From Iraq to Ukraine: Every Picture Tells a Story" and the Luxembourg premiere of the UN Refugee Agency (UNHCR) Ireland's series of four documentary short films "Taste of Home".
BIFFL organiser Geoff Thompson kicked off this special event by thanking the event partners as well as the audience for their presence and support. He asked Jazmin Campbell, CEO of G-Media Sàrl (the company behind BIFFL and Chronicle.lu) and journalist at Chronicle.lu, to say a few words. Jazmin too thanked everyone for being there to mark this special anniversary whilst showing solidarity with refugees – a gesture which fits with the online newspaper's values and goal of covering the most impactful stories for Luxembourg's international communities. She also thanked Geoff for organising BIFFL each year and for setting up Chronicle.lu ten years ago, gifting him a bottle of champagne on behalf of the newspaper's team.
Next up was the screening of "From Iraq to Ukraine: Every Picture Tells a Story" by Ali Sahib, who came to Luxembourg in 2015 as a refugee from Iraq. The short film documented his travels to the Poland-Ukraine border and to Lviv in Ukraine, with fellow photographer Christophe Mendes, in March 2022, as well as Ali's own story of fleeing Baghdad for the safety of the Grand Duchy.
Following the screening, Ali answered questions from Geoff and members of the audience. Ali explained that he had not originally set out to create a documentary but that this decision came after showing his photos to Geoff. He noted that post-production took longer than he had expected – about four months. Ali and Christophe plan to return to Ukraine, this time to Kyiv, in late November 2022. One member of the audience, a Ukrainian man, kindly offered Ali and Christophe a free place to stay in his family's apartment in the centre of Kyiv when they return.
In response to a question from one audience member, Ali shared that the experience had brought back difficult memories for him. "You cry inside but pretend and smile outside", he said, adding that it had been difficult to see so many women and children who simply did not know what to do and who often could not communicate in a language other than Ukrainian or Russian. His advice for refugees in Luxembourg was to "just keep going", as it is not possible to change the past, so they should "focus on the future". As for the goal of his documentary and his photography in general, Ali noted: "We just try to reflect the truth in the media".
The evening continued with a screening of UNHCR Ireland and Jess Murphy's (Kai Galway) "Taste of Home", which tells the story of refugees from Afghanistan, Palestine, Guinea/Senegal and Yemen who have settled in Ireland and showcase their home cuisine. The screening was preceded by a short speech by Carine Rustom of UNHCR Luxembourg. She noted that these four short films had been filmed during various lockdowns but she was "happy that they were made and that they exist". She added that the films "celebrate all those who have found safety in Ireland" along with their culinary heritage and local Irish produce. "Food is a way to strengthen a community", she continued. UNHCR works to protect and assist refugees around the world. Carine recalled that there are currently more than 100 million forcibly displaced people worldwide and that Luxembourg was receiving between 2,000 and 2,500 asylum applications each year before the COVID-19 pandemic.
Following the "Taste of Home" screening, in a chat with Geoff Thompson, Bibi Wintersdorf, founder and CEO of Lux Taste & Style Publishing (the company behind the food and lifestyle magazine, Kachen), pointed out that "nothing brings people together like food". She added that food offered an important insight into different cultures. Bibi also noted that recipes from various cultures were included in a series of expat recipes in Kachen.
Geoff concluded that it had been "a wonderful evening raising awareness of different issues"; Bibi added that it had been "a nice positive way to raise awareness of the beauty in other cultures".
BIFFL will continue until Saturday 24 September 2022; for more detailed information on the programme, visit http://www.bifilmseason.lu/.